California signed a cooperative environmental agreement with Mexico this week that stretches from attacking wildfires and improving air quality to carbon pricing and expanding the electric vehicle market.
Governor Jerry Brown and Rodolfo Lacy Tamayo, Undersecretary of Planning and Environmental Policy for Mexico's Environment Ministry, signed the memorandum of understanding.
As expected, they will explore hooking up cap-and-trade programs and collaborative development of carbon pricing systems.
California's program is already connected with Quebec's and other countries are widely expected to join.
Mexico's climate legislation targets emissions cuts of 50% by 2050 (from 2000 levels) and 35% renewable energy by 2024. It sets the stage for national cap-and-trade and includes state goals to reverse deforestation. Since Mexico passed the legislation, a slew of Latin American countries have followed: Guatemala, Honduras, Costa Rica, El Salvador, Colombia, Chile, Bolivia and Peru.
Areas of cooperation to be developed under a Joint Action Plan:
Climate Change
Align greenhouse gas reduction programs
Share best practices for lowering emissions and promoting low carbon development, including measuring progress over time;
Develop and implement carbon pricing systems and other market-based instruments;
Programs that reduce forest degradation and deforestation
Programs that increase renewable energy
Control carbon forcers, such as methane through performance standards and other approaches;
Cooperating to advance multilateral and subnational action on climate change, including between individual Mexican States and the State of California.
A 30 MW solar project in Baja is Mexico's biggest so far: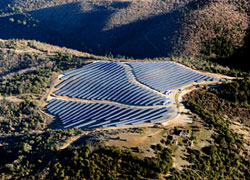 Wildfires
Preparing for and coordinating wildfire suppression along the shared border by sharing equipment, resources, scientific and information and training.
Air Quality
Continuing and increasing cooperation on air quality along the border by reducing emissions of key pollutants, joint air quality monitoring and sharing specialized equipment.
Clean Vehicles
Reducing vehicle emissions, particularly in shared air basins, by setting common, stronger vehicle emission standards including trucks
Supporting green freight initiatives, such as fleet retrofits
Analyzing the vehicle market in the border region for the number of used vehicles imported to Mexico that are not compliant with emissions standards.
Going forward, they may also work together on biodiversity, green building, and sustainable cities, the agreement says.
Read our article, Mexico Unveils National Climate Change Strategy.
Read the memorandum:
Website:
[sorry this link is no longer available]
(Visited 4,226 times, 2 visits today)