The utility that first made headlines in the "war on solar" now wants to jump into the industry.
That would be Arizona Public Service (APS), which proposed $50 monthly fees for people that have solar systems. They ended up at about $5 a month, depending on the system size, setting up the domino of similar utility efforts we've been seeing across the US.
Now they are asking regulators for permission to add a new form of solar leasing to their services. APS wants to install and own solar systems on customer rooftops – at no cost to the customer. In exchange for the electricity, customers would receive a monthly $30 credit on their electric bill for 20 years.

APS wants to install 20 megawatts of residential solar on about 3,000 homes next year. They would choose locations where peak power is needed most and control power flows remotely.
All customers would then benefit from a more efficient grid, they say, and all would be charged (not only homes with solar) for the $57 million to $70 million it costs for the installations – plus a guaranteed profit. By placing panels where they are needed most and controlling power flows remotely, all customers would benefit from a more efficient grid, says APS.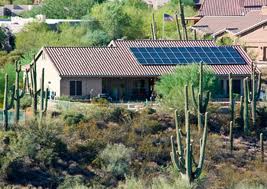 What hubris! It reverses their argument for charging monthly fees to people with solar systems – that they are "free loaders" who get away without paying for the costs of grid maintenance, leaving homeowners without solar holding the bag. That line of reasoning omits the fact that more solar stabilizes the grid – benefiting everyone – and saves money from not having to build more power plants. Now APS is uses that very argument because it sees the potential for profit.
Under this new plan, APS would be freed from making net-metering payments for systems they install – would they still charge those customers that $5 a month charge?!
"The irony here is that APS has spent two years complaining about how terrible solar is, how it's a massive problem for the grid," Will Craven of the Alliance for Solar Choice, told Bloomberg. "We welcome competition but there's nothing fair or equal about a utility being allowed to rate-base solar with a guaranteed rate of return."
"This is a massive expansion of the monopoly into an area that is well served by the free market," says local solar installer Corey Garrison, CEO Southface Solar Electric.
And this is after APS was caught red-handed, secretly funding one of the many Koch Brothers-backed groups that ran ads against solar. The utility also supported property taxes on leased solar systems in the state.
Behind the Scenes
ALEC is behind utilities' war on solar. This year, state-by-state, just about every utility has suddenly turned against solar – pushing to eliminate net-metering, slap extra charges on people that have solar systems, and the holy grail – gut or eliminate Renewable Portfolio Standards.
Although plenty of ALEC's oil-soaked members favor much of these moves, it turns out that Edison Electric Institute – trade association for the US utility industry – is funding this particular assault on solar energy, says the Center for Media and Democracy (CMD).
Edison Electric is a prime player in ALEC – footing the bill and calling the shots on the anti-renewable agenda, CMD has uncovered. They worked with ALEC on the "model" legislation that's rearing its ugly head in too many states.
The Koch Brothers, which fund a network of 90+ organizations, expect to spend $300 million in this year's election. Many of their groups are already active on eliminating support for renewable energy and preventing carbon regulations and taxes, but now there's a new one specifically focused on that. They want Republicans removed from office for supporting wind energy and the Renewable Portfolio Standard in their home state of Kansas.
A new Super Pac, Freedom Partners Action Fund, will funnel money into getting ultra-right wingers elected.
Read our article, Eye-Opening Map of Front Groups Attacking Renewable Energy.
Read more (if you can stand it):
(Visited 8,968 times, 5 visits today)