Ever wonder how vulnerable your home is to severe weather events?
It's one thing to know how frequently your region gets hurricanes, tornadoes or wildfires, or maybe you're on the east coast where sea levels are rising the fastest. But what you likely don't know is the energy infrastructure that surrounds you, which adds an additional layer of threat.
Are there natural gas or oil pipelines, active drilling or nuclear plants nearby that could be in the path of a storm? Are they near waterways where, if they rupture, they could easily leak those pollutants?
You can find out about this often-hidden infrastructure by using the US Energy Mapping System, developed by the US Energy Information Administration. Zoom into any location and you may be surprised by what's nearby that could be seriously damaged by severe storms. It's also available on mobile devices.
It gives you the name and type of power plant, for example, and how much power it produces.
Believe it or not, this map shows all the fracking wells in just one area of Colorado, near Greeley.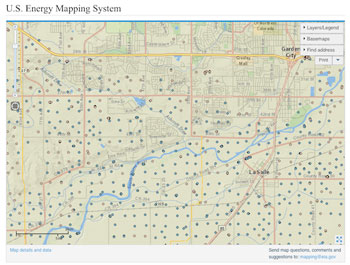 Check it out:
(Visited 5,480 times, 1 visits today)