We first heard about Ecosphere (OTCBB: ESPH) in 2006 when they raised their first round of funding to develop a portable unit that recycles and cleans wastewater without chemicals – which now travels to and from oil and gas operations, cleaning the water for reuse.
Now, they've come up with another delivery service and this time it's a very cool, mobile solar-powered generator, Ecos PowerCube.
Imagine what mobile solar can mean to people recovering from a disaster, off-grid hospitals and the military. After it arrives by and, air or sea, you might think it's just a small building. But at the touch of a button, flaps on the side and top open and solar panels slide out. Also at the push of a button, they slide back in, protecting them from extreme weather in war zones or disaster relief scenarios. A wind turbine can be assembled Ikea-style and the energy is stored in onboard batteries.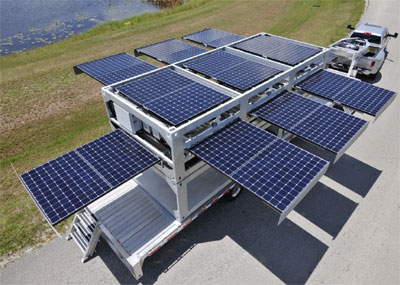 The size of a standard shipping container, PowerCube provides 15 kilowatts of solar energy in the most remote, off-grid locations, providing the basics people need – clean water, Internet and satellite communication, and electricity.
Ecosphere also makes a water filtration and purification technology for mobile delivery systems, which was deployed in the aftermath of Hurricane Katrina.
Although we're against fracking, Ecosphere says its technology has enabled oil and gas customers to recycle and reuse over one billion gallons of water on about 500 oil and natural gas wells in major shale areas across the country.
The company is listed as one of the top innovators in water technologies.
Watch how PowerCube works:
(Visited 4,602 times, 25 visits today)