Following the lead of many progressive universities and calls from the Vatican to act on climate change, the first Catholic university – and the largest private university in Ohio – is divesting from fossil fuels.
The University of Dayton announced it will begin divesting from its $670 million investment portfolio, about 5% of which is invested in fossil fuel companies ($33.5 million). The plan will unfold in stages, gradually eliminating fossil fuel holdings while increasing investments in
sustainable enterprises.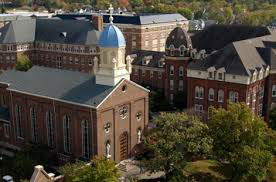 Their financial advisor applauds the decision as being on track ethically and financially. They "are acting as true leaders both from their faith and their financial responsibility … more people are understanding the financial risk that underlies fossil fuels in the stock market. It's not only values, but valuation risk associated with owning fossil fuel companies," says Thomas Van Dyck, senior vice president of RBC's SRI Wealth Management Group.
"We're not naive. This is not a 'good-guy/bad-guy' thing, because we all benefit from (oil and gas energy)," Rev. Martin Solma, vice-chair of the University's Board of Trustees, told The Columbus Dispatch. "But we have to increase our consciousness that we have to do some things differently if there's going to be a future."
Divesting complements the school's comprehensive sustainability effort on campus and its participation in the American College and University Presidents Climate Commitment.
While skeptics say divesting from fossil fuels is hypocritical because we rely on them, and that the gesture isn't even a drop in the bucket for the most profitable industry in the world, Dayton
is the 13th university to do so and the movement is gaining speed.
Nearly 100 major religious institutions, universities, cities, counties, foundations, and even a bank, have either divested or started the process, and active campaigns are underway across the world.
A couple of weeks ago, the first seminar announced it would divest, Union Theological Seminary in NYC. They are also organizing the Religions for the Earth conference, taking place in New York City in September.
"In 2014, divestment is becoming increasingly mainstream,"
says Jenny Marineau, 350.org's Campus Field Manager. "The logic is simple: if you're serious about tackling the climate crisis, you've got to stop investing in it."
Unfortunately, Ohio recently bowed to the fossil fuel industry, the first state to freeze its Renewable Portfolio and Energy Efficiency Standards.
(Visited 6,667 times, 9 visits today)