Demonstrating that it's possible to produce really high mileage cars, Volkswagen has produced a diesel-electric plug-in hybrid that gets 261 miles per gallon (mpg) – the most efficient car ever made.
The 2-seater can make it from NY to Washington DC on just one gallon of gas, while emitting a tiny fraction of the greenhouse gases of the average US car. It spews out 34 grams of carbon for every mile driven, compared to 340 grams for a conventional car. And even the average all-electric car gets about half the mileage.
New fuel economy standards in the US that require 54 mpg by 2025 will cut those emissions in half. Europe has an even higher goal of 65 mpg.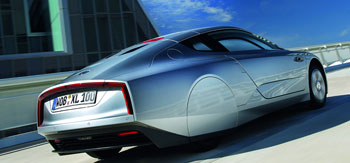 Volkswagen's XL 1 is now at car dealers in Germany and Austria, but only in a limited edition run of 250 vehicles. About 50 have sold so far for a pricey $150,000.
Giving us a glimpse of the car of the future, XL 1 combines a very light, aerodynamic body that weighs half of a typical car with smaller tires and a turbo-charged, smaller engine. It can travel 31 miles in all-electric mode.
Although diesel cars haven't taken off in the US, they are a third more efficient and release much less carbon emissions. Until recently, however, they did emit high levels of nitrogen oxides – which cause smog – but that's been cleaned up to meet air standards in the US and Europe. While it costs more to fill up with diesel gas in the US, it costs less in Europe.
40 diesels models are available in the US and more are coming, according to the Diesel Technology Forum. The market will double and could even triple, Allen Schaeffer, executive director, told InsideClimate News.
Volkswagen's first all-electric cars are the e-Up! and an electric Golf. 14 electric models go on sale this year and if demand is strong, VW says it will roll out as many as 40 hybrids and electrics.
Last year, Volkswagen led the auto industry on the Dow Jones Sustainability Index, which evaluates companies based on social and environmental criteria. Its Chattanooga Solar Park is the only LEED-Platinum auto factory.
Here's a description of the Volkswagen's XL 1 from the company:

(Visited 8,625 times, 103 visits today)