Every year we postpone action on climate change, the costs grow to keep average world temperatures from exceeding 2 degrees C.
Staying below 2 degrees C will cost $44 trillion through 2050, 22% more than the International Energy Agency (IEA) analysis showed just two years ago. And that's solely to decarbonize electric power.
Although $44 trillion seems like an unimaginable amount of investment, it's a small fraction of global GDP and would pay off with $115 trillion in savings on fossil fuels. IEA says investment must triple over the time frame in renewable energy, nuclear power and carbon capture and storage.
Cost-effective, practical solutions can increase efficiency, moderate electricity demand and decarbonize almost all power generation by 2050, the report maintains.
Currently, the world is headed to a 6 degree C scenario, with potentially devastating results, says IEA. Taking into account countries' stated targets for efficiency and renewables, the world is headed for a 4 degrees C scenario.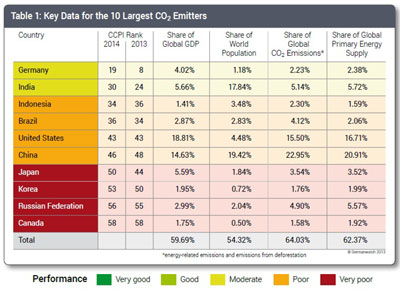 Why is the cost growing? Because of "bleak" progress made so far, says IEA. Although renewable energy is rising, coal is still used much more.
Over the coming decades, the use of electricity will increasingly power the world's economies, rivaling oil as the dominant energy carrier, says IEA's report, Energy Technology Perspectives 2014: Harnessing Electricity's Potential.
"We must get it right, but we're on the wrong path at the moment," says Maria van der Hoeven, Executive Director. "Growing use of coal globally is overshadowing progress in renewable energy deployment, and the emissions intensity of the electricity system has not changed in 20 years despite some progress in some regions. A radical change of course at the global level is long overdue."
Three drivers will get us through the transition:
1. "The decision-making process needs to be revised, abandoning the short-term, siloed attitudes of the past, and embracing a longer-term systems approach that identifies synergies in all sectors of the energy system."
2. Attracting capital investments will be key to financing the transition to a clean energy system, but higher capital costs (despite lower operating costs) of low-carbon technologies mean investors will need support to alleviate their exposure to a shift in risk profiles.
3. Policy certainty remains vital to a positive investment outlook for clean energy technologies.
Key points:
The unrelenting rise in coal use without deployment of carbon capture and storage (CCS) is fundamentally incompatible with climate change objectives;
Deployment of renewable energy is growing and becoming competitive; balancing variable supplies with patterns of energy demand must be actively managed.
In the short term, natural gas can replace coal and support integration of renewable energy, but "in the medium to longer term, gas must be seen for what it is: a transitional fuel, not a low-carbon solution unless it is coupled with CCS."
Electricity could be the key to weaning the transportation sector off its oil addiction, but not all regions are at the same level of readiness to take that leap.
April was the first time carbon dioxide exceeded 400 ppm for an entire month. Last year, it reached those levels for several days – a trend which has not been seen literally for hundreds of thousands of years.
IEA released the report at the Clean Energy Ministerial, currently taking place in Seoul, South Korea. To give you an idea of what the world's energy ministers are talking about, here are the six public-private roundtable topics:
Electric vehicle integration into power systems
Energy-efficient cooling and demand response
Energy storage systems: challenges and opportunities
Facilitating access to low-cost capital to scale up renewables
Renewable energy for sustainable growth and employment
The energy-water nexus: overview and relevance for Clean Energy Ministers
Two years ago, during the conference, IEA's report warned governments they are falling badly behind on low-carbon energy. They must stop subsidizing fossil fuels and subsidize renewable energy instead. IEA has been advocating for carbon taxes – with that, solar could supply a third of the world's power.
Last year, Clean Energy Ministers from 10 countries formed the "Renewables Club" to scale renewable energy worldwide.
Here's the Executive Summary of IEA's report:
(Visited 4,886 times, 17 visits today)