The 50,000th Nissan Leaf has sold in the US, the first electric car to cross that threshold.
A couple in Dallas bought the vehicle, one of the hot markets for the Leaf. Sales are up 50% this year in the Dallas-Fort Worth area and will pick up speed with the new $2500 state tax rebate and free charging at public stations.
Starting July 1, Leaf owners in 10 markets – including Dallas-Fort Worth and Houston – will get two years of "No Charge to Charge," if they bought their car after April 1, 2014.
The couple who bought this 50,000th Leaf belong to the "Blessed LEAFs Club." They and about 20 other people that work at a local church bought a Leaf after seeing how pleased the pastor is with his car.
Last year, the Leaf became profitable for Nissan.
With nearly 115,000 global sales since launch, the Leaf is the world's top-selling electric car. Competitively priced with conventional cars, it retails for under $30,000 after rebates. It gets a combined 114 miles per gallon equivalent and takes about 30 minutes to charge using a "quick charger" or five hours plugged into a typical outlet.
Its 84-mile range could increase to 135 miles for 2015 models because battery prices are coming down, bringing ranges of 200-miles within sight by 2016 or 2017.
The 2014 Nissan Leaf is the first to be assembled in the US (Tennessee), along with the battery packs, which are warrantied for eight years or 100,000 miles.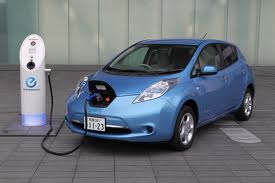 In related news, Tesla now employs 6000 people in California and plans to add another 500 people this year. That makes it the biggest auto employer in the state – more than Toyota, which has a significant presence there with 5300 employees.
Having a job with Tesla is so popular that it had to close a recent job fair after two hours because of the huge turnout and resulting traffic jam, reports Cleantechnica.
Last year, 96,000 plug-in hybrid and electric cars sold in the US. Governors of eight states are collaborate to get 3.3 million zero emission vehicles on the road by 2025. It costs two-thirds less to charge a car than to fuel with gasoline, saving people about $6000 over the life of a car – hopefully people will figure that out soon.
Read our article, 10 Best States for Electric Cars.
(Visited 4,144 times, 17 visits today)