The world's biggest companies are not immune to climate change and are already seeing negative impacts on their business, according to the latest survey by the Climate Disclosure Project (CDP).
"Dealing with climate change is now a cost of doing business" says Tom Carnac, President of CDP North America. "Making investments in climate-change-related resilience planning both in their own operations and in the supply chain has become crucial for all corporations to manage this increasing risk".
For example:
Gap, Inc. has to pay more for cotton because of lower yields from changes in precipitation and drought patterns in China and the US; more severe rain, snow and hurricanes is lowering sales;

Dr. Pepper Snapple Group says $2.5 billion of their cost of sales is already at risk from extreme weather and water availability;

Sempra Energy pays more for liability insurance coverage because of widespread wildfires;
Union Pacific Railroad's revenue is down because of the 2012 drought when corn shipments declined 11%;
HP lost 7% revenue after the 2011 floods in Thailand;
Consolidated Edison has had $431 million in costs related to Superstorm Sandy.
The top five risks: change in precipitation extremes and droughts; hurricanes and typhoons; induced changes in natural resources; uncertainty of physical risks; rising sea levels.
Top impacts of those risks: higher operational costs; reduction or disruption in production; inability to do business; reduced demand for goods and services; increased capital costs.
CDP an international, non-profit that works on behalf of
767 institutional investors with assets of $92 trillion, to motivate corporations to disclose their impacts on the
environment take action to reduce them. Funding for this report comes from Bloomberg Philanthropies.
Many of the world's biggest companies including Exxon, Microsoft and Walmart are incorporating these business risks through an internal carbon tax, while others are trying to influence Congress to take action on climate change, like eBay, Nike and Intel.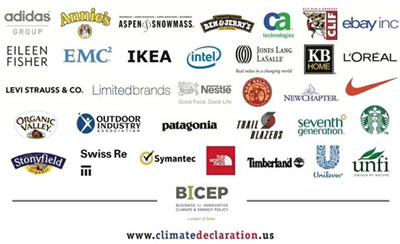 Credit Ratings Going Down
Standard & Poor's Ratings Service says climate change is already putting downward pressure on country's credit ratings as it hits their economic growth rates and public finances.
They highlight the growing expense of recovering from natural disasters from Typhoon Haiyan in the Philippines to torrential floods in the United Kingdom.
Lloyd's of London is warning insurance companies to factor extreme weather events into their risk models. Costs have more than doubled, to $1.5 trillion in damages and economic losses over the past decade, according to the Organization for Economic Cooperation and Development (OECD). They too are calling for a price on carbon.
Read our article, In Precedent-Setting Case, Insurance Company Sues Chicago Over Climate Change.
Here is CDP's report:
(Visited 4,548 times, 14 visits today)