Which kind of zero emission car will Californians like better – electric or hydrogen fuel cell? Automakers are moving in lockstep with California regulators to find out.
Over the next two years, California will have 50 hydrogen fueling stations, coinciding with the launch of Toyota's fuel cell Camry, Honda's revised FCX Clarity sedan and Hyundai's Tucson crossover SUV, due out next year.
California is spending $47 million for 28 stations, adding to the 26 in operation or under construction. That's enough to support sales of at least 10,000 vehicles, Jim Lentz from Toyota told Bloomberg.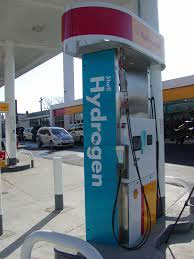 "Just based on the product, based on the infrastructure we see that will be in place in California, we're much more bullish on fuel cells," he says. "I'm more bullish on fuel cells than on electric vehicles (EVs). I think the cost of fuel cells is going to be substantially less than in an EV."
And he believes drivers will adopt them faster than electric cars because they are more similar to conventional cars in range – about 350 miles – and how long they take to fuel. Automakers are especially bullish on hydrogen for larger vehicles.
Toyota is backing FirstElement Fuel with $7.2 million, which won the solicitation to build and operate 19 of the stations with $27.6 million in grants.
Toyota has long thought that fuel cells would win over electric cars and is now pivoting in that direction, ending its contract with Tesla for its electric drive train. Honda and GM are working together on fuel cell technologies.
California's goal is to have 100 stations operational by 2024, planning to spend about $20 million a year.
H2FIRST
Last month, the US Department of Energy (DOE) launched H2FIRST, a collaboration between Sandia National Lab and National Renewable Energy Lab on an ultimate design for hydrogen fueling stations.
The goal is to develop national fueling infrastructure as quickly and cost effectively as possible.
"The success of hydrogen fuel cell electric vehicles largely depends on more stations being available, including in neighborhoods and at work, so drivers can easily refuel," says Daniel Dedrick, hydrogen program manager at Sandia. "We're definitely on the road to making that happen more quickly."
Considerations include everything from how energy will be stored to the hoses used for fueling, developing novel, high-performance materials, components and station architectures that are safe, reliable and attractive.
Last year, DOE opened a National Fuel Cell Technology Evaluation Center to further development of fuel cells and hydrogen technologies, including buses.
Commercializing fuel cells and shifting from gasoline to hydrogen could create 675,000 jobs over the next 25 years, says DOE.
Europe Too
Europe is also moving forward on hydrogen cars, introducing the public to them through its HyFive program.
Toyota, Honda, Hyundai, BMW and Daimler have agreed to
deploy 110 cars in London, Munich, Stuttgart, Bolzano (Italy), Copenhagen and Innsbruck, Austria. Hyundai is providing 75 of the cars which can reach speeds of 99 mph with a range of 369 miles, it says.
The $50 million project will also begin the process of setting up an EU-wide fueling infrastructure, starting with three stations in London (two already exist), two in Denmark and one in Austria by next year.
"To sell this technology we need to show Londoners and the wider world that it is not science fiction. By building the vehicles and the filling stations and allowing people to kick the tyres we will be able to demonstrate that hydrogen is a viable option and that London is at the forefront of efforts to make it so," says Boris Johnson, London's mayor, who is coordinating the effort.
Another program in Germany, H2 Mobility, is spending $500 million to build 100 hydrogen fueling stations in the next four years, and 400 in 10 years.
Read our article, Green Technology Spotlight: Fuel Cells Transform Methane Into Fuel, Electricity.
Find hydrogen fueling stations in the US:
(Visited 6,241 times, 10 visits today)