In the midst of all the turmoil in Egypt, we're pleasantly surprised to hear that the government plans to invest in solar, reports PV Magazine.
To spur clean energy and create jobs for youth, they say they will invest up to $1 billion for several big solar projects. They also will install rooftop solar on government buildings to reduce strain on the grid.
The government "will not be able to prevent electrical power cuts" this summer, says Egypt's Minister of Electricity and Energy, but they will reduce energy consumption as much as possible to resolved the overburdened grid within a few years, reports Daily News Egypt.
Egypt's goal is to raise the share of renewable energy to 20% by 2020. 12% is expected to come from wind. In a separate plan for solar, they want 3.5 gigawatts by 2017 – 700 MW of solar PV and 2.8 GW of concentrating solar.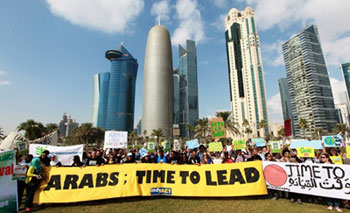 Last year, the government's New and Renewable Energy Authority (NREA) asked for bids (from local and international companies) for its first major solar project. Ten, 20 megawatt solar farms would be spread over the southern Egyptian province of Aswan. Italy is helping out with a $500,000 grant.
Egypt is also taking small steps toward manufacturing solar PV modules, starting with a 21 MW capacity this fall and building to 80 MW by the end of 2016.
"MENA" countries (Mid East, North Africa) could see $50 billion in solar investment alone by 2020, says the Middle East Solar Industry Association. They expect 37 GW of renewable energy projects to be built, with 12-15 GW of that in solar.
There are already 2.3 GW of solar, with Israel in the lead with 842 MW, according to a report from the International Renewable Energy Agency (IRENA), Renewable Energy Policy Network for the 21st Century (REN21) and the United Arab Emirates' Directorate of Energy and Climate Change.
All 21 MENA countries have renewable energy targets, up from five countries in 2007, reports PV Magazine, adding up to 107 GW by 2030.
Read our article, Arab Spring Spawns Middle East Youth Climate Change Movement.
(Visited 5,003 times, 1 visits today)