Lower prices for organic food? Yes, please!
This month, Walmart will start selling organic foods at much lower prices, putting them on equal footing with conventional foods. Starting with about 100 products such as spices, salsa, pasta sauce and canned beans, organic versions will cost at least 25% less, a boon for shoppers.
Surprisingly, organic food is one Walmart's biggest sales categories, the company says, and after market research showed that 91% of customers would buy a lot more at lower prices, they decided to take the leap.
"We know our customers are interested in purchasing organic products and, traditionally, those customers have had to pay more," says Jack Sinclair, executive vice president of grocery at Walmart U.S. "We are changing that and creating a new price position for organic groceries that increases access. This is part of our ongoing effort to use our scale to deliver quality, affordable groceries to our customers."
Walmart is partnering with Wild Oats – the former natural supermarket chain that now produces organic foods. While organic tomato paste typically sells for about $1, at Walmart it will cost $0.58. Organic chicken broth will drop from $3.47 to $1.98, and cinnamon applesauce, from $2.78 to $1.98, for example.
Half of US Walmart stores will have the products this month, expanding to the rest over the course of the year.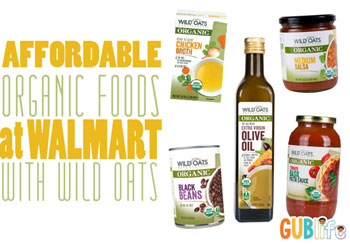 Many Potential Downsides
Whenever we talk about Walmart, however, there are potential downsides. Because of its beyond-enormous size, we have to wonder how it can charge such low prices without negatively impacting the organic industry.
Organic foods don't have a premium price, they reflect the cost of production because the US government doesn't subsidize them as they do for conventional farms.
Will it lead to the industrialization of organic farming? And is that a good or bad thing? Will small organic farmers be rolled into large firms – and what affect would that have on organic standards for agriculture? Further, will the entire supply chain have to lower prices so much that they can barely make a profit? More outsourcing of food production to China and other countries with weak organic standards is another concern.
"How will Walmart pull this off and still be able to make a profit … somebody's going to have to pay, and my hope is that it's not the organic farmer," Mark Smallwood, Executive Director of Rodale Institute, told Grist.
The big question is, will people and the planet be better off if Walmart grows to control 50% of the U.S. grocery market?
Two of the largest "organic" dairy farms, for example, are charged with violating organic standards – Horizon and Aurora Organic Dairy, which supply certified organic dairy products to Walmart, Costco, Target and other chains.
But positive outcomes are also possible. It could give conventional farmers the impetus to go organic to keep Walmart as a customer. Even after all these years of a booming organic industry, only 0.8% of US farmland is certified organic.
In 2010, Walmart announced it would will double sales of locally grown produce by the end of 2015, bringing the total to 9% of all produce sold in US stores. And that would come from small and medium-sized farms. As part of the initiative, they said they would train a million farmers and farm workers on sustainable practices. Walmart is also moving to healthier conventional foods.

To its credit, Walmart is now involved in numerous sustainability initiatives: the most on-site solar of any US corporation; experimenting with green roofs; eliminating toxic chemicals in products and greening its supply chain.
Still, it is one of the top 50 polluters in the world and because of its endless growth, emissions continue to rise.
(Visited 5,123 times, 205 visits today)