The world's first net-zero energy skyscraper will soon grace the center of Jakarta, Indonesia – the Pertamina Energy Tower.
What really sets the design apart is that it's the first time energy is the primary design consideration.
When it's finished in 2019, it will be 99 stories high and ironically, serve as the headquarters of Pertamina, the national energy company. In addition to the 20,000 people who will work there, it will be the centerpiece of a campus that has a mosque, a sports center and a 2000-seat auditorium for the performing arts.
Shaped like a funnel, it opens at the top, capturing wind and sucking it inside to run a series of vertical wind turbines, which combined with solar and geothermal, supply all the building's electricity.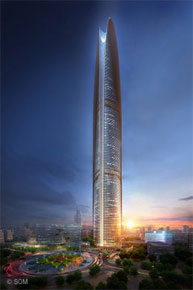 Incredibly, its curved façade is precisely calibrated for Jakarta's proximity to the equator, which mitigate solar heat gain throughout the year. On two sides of the building are sun-shading "leaves" – semi-mobile curtains that allow daylight to enter while shielding the building from glare and heat from the sun. Radiant cooling systems replace air conditioners.
Other buildings on campus will be covered by solar panels, but the central energy plant that powers the complex will run on geothermal – a prime, renewable energy source in Indonesia.
A covered walkway called the "Energy Ribbon" winds through the campus, providing protection from the elements and generating energy from solar panels on top. It connects the buildings, while leading people across land bridges and gardens.
Designed to be a symbol of Indonesia's commitment to sustainable development, the architectural firm behind it is Skidmore, Owings & Merrill (SOM), known for combining innovation with energy efficiency and sustainability. Their Greenland Group Suzhou Center in China, for example, has a 30-story tall operable window and uses 60% less energy than typical skyscrapers.
"It is extremely exciting for the architects and engineers at SOM to be working on a tower and campus for which energy is the primary design consideration," lead designer Scott Duncan told Fast Company. "Historically, super-tall buildings have focused on structural challenges: resisting gravity and lateral forces from seismic and wind. The rules have changed, and energy has become the defining problem for our generation."
Read our article, By 2050, Urban Buildings That Breathe And Adapt and check out Polar Umbrella, which could rebuild the world's ice caps!
Check out these
(Visited 11,171 times, 115 visits today)