Greenpeace, which has long been critical of the enormous energy used by leading tech companies, is now lauding Apple,
Facebook and Google for their leadership.
Working to power the internet with 100% renewable energy, signals a major shift in the industry over the past two years, Greenpeace says in Clicking Clean: How Companies are Creating the Green Internet.
Imagine seeing this fly over your neighborhood as Silicon Valley commuters did this morning: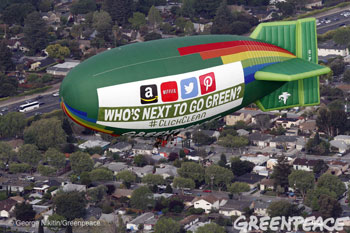 The other side says "Building the Green Internet" with Apple, Facebook and Google's logos.
Amazon is now the laggard, which through Amazon Web
Services, provides hosting for much of the web, but with polluting energy sources, they say. Twitter isn't much better. Ebay falls in the middle and as does Microsoft.
If the Internet were a country it would rank 6th on energy demand, showing the "immense power technology companies have to either drive a renewable energy revolution or chain the new digital economy to old, polluting sources of power. Internet data is expected to triple by 2017.
Apple is the first company to power all data centers with 100% renewable energy, setting a new bar for the industry and concretely illustrating that a renewable Internet is within reach.
It made good on its pledge by building the largest privately owned solar farm in the US at its North Carolina data center, working with its Nevada utility to power a new data center with solar and geothermal, and purchasing wind energy for its Oregon and California data centers.
Facebook used its influence to push its utility in Iowa to fully power its data center there with wind energy. MidAmerican responded by investing $1.9 billion in wind farms, placing the world's biggest order for wind turbines partially to meet the company's electricity needs.
Google has made $2 billion worth of investments in renewable energy, both in buying solar and wind farms and pioneering the use of power purchase agreements (PPA) to buy renewable energy at scale. It currently runs on 48% clean energy. Microsoft and others have since adopted the PPA model. It also coaxed the biggest US utility, Duke Energy, to provide renewable energy directly to large electricity buyers.
In 2012, Rackspace and Salesforce committed to powering their operations completely with renewable energy.
On the other hand, Amazon Web Services, which hosts data-crunching websites like Pinterest, Netflix and Tumblr, sources only 15% of electricity from clean energy. Coal powers
28% of its cloud, nuclear 27%, and gas 25%.
Amazon's growth is
fueling increased use and construction of coal and gas-burning power plants
in Virginia, and has jeopardized clean energy growth in Oregon, says Greenpeace.
Data centers that rent space to customers also don't use much renewable energy and like Amazon and Twitter, refuse to be transparent about where their energy comes from.
Read the report, Clicking Clean:
Website:
[sorry this link is no longer available]
(Visited 7,455 times, 5 visits today)