Cool Planet Energy Systems, which is bringing "carbon-negative technology to the world's energy, agriculture and water markets," closed on $100 million in Series D financing.
Current investors such as Google Ventures, Energy Technology Ventures (GE, NRG Energy, ConocoPhillips) and BP participated in the round along with a group of new investors from outside the US.
The company is pioneering a small, distributed approach to creating plant-based gasoline that produces biochar as a byproduct.
While big plants take years to finance and build, Cool Planet is taking the opposite approach, with plans to build hundreds of small-scale, modular bio-refineries close to the fuel source. Quickly assembled using components the size of shipping containers, refineries can generate 10 million gallons of biofuels a year from local biomass materials, such as corncobs and grasses.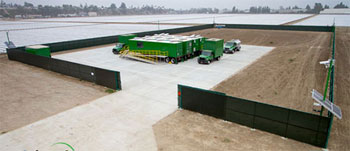 "By mass producing mobile, pre-fabricated micro-refineries that are easily transportable to the biomass source, we significantly reduce costs of feedstock transportation, which maximizes our overall capital efficiency," says Howard Janzen, CEO. "Each micro-refinery is 100 times smaller than a typical oil refinery and can produce 10 million gallons of fuel per year; this puts us in the running to compete with oil at $50 a barrel without any government mandates or subsidies."
This will allow them to sell biomass-based gasoline for about $1.50 per gallon without subsidies.
In February, Cool Planet broke ground on its first refinery in Louisiana. It plans to build 30 more in the next few years and 400 over the next 7-8 years. It has orders for $500 million worth of the gasoline, they say.
Its patented mechanical process for converting biomass into fuel "actually removes carbon from the atmosphere during the course of production," says the company. It does so by capturing the carbon released by the plants and converting it to biochar, which, when returned to the soil, enhances fertility and its ability absorb carbon from the atmosphere.
(Visited 4,363 times, 16 visits today)