As the IPCC climate change report summed up current research on climate change, the world crossed another threshold.
Last year, atmospheric carbon levels briefly crossed the 400ppm threshold for the first time – we surpassed it it two months earlier this year, on March 12.
"We're already seeing values over 400. Probably we'll see values dwelling over 400 in April and May (when atmospheric carbon peaks). It's just a matter of time before it stays over 400 forever," says Ralph Keeling.
When carbon dioxide was at these levels previously in history, polar ice melted and flooded the oceans, raising sea level up to 130 feet higher than today's levels.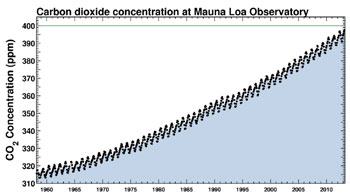 On March 21, Arctic sea ice reached its maximum area for the year, peaking at 5.7 million square miles, some 282,000 square miles below the 1981-2010 average. That's the fifth lowest ice cap on satellite records, which began in 1978, Climate Central says.
In Antarctica, Pine Island Glacier is melting "irreversibly," says a study in Nature Climate Change, and scientists fear it could destabilize the entire West Antarctic Ice Sheet.
And glacial Melt is accelerating in Greenland, with even the most stable portions now melting, say an international team of scientists in Science Daily.
Effects on plants and animals are easily seen now as those that can are migrating to areas with cooler temperatures, and fish are actually shrinking in size in response to warmer oceans and less oxygenated water. In the North Sea, fish are 29% smaller than they were 40 years ago, reports a study in Global Change Biology, and in North America, salamanders are 8% smaller as their surroundings get warmer and drier.
Calling it one of the "largest and fastest" rates of change seen in an animal, Karen Lips, biology professor at University of Maryland says the data is clearly correlated with climate change. Some species are going extinct, others are dwindling in numbers. For those that are shrinking in size, it could offer hope that some species will adapt to climate change, she says.
Crop yields will also be impacted much earlier than predicted and further temperature rise will likely accelerate the release of methane from freshwater systems, such as rivers, lakes and wetlands. Parts of the Mediterranean region are drying out, correlated with political destabilization in the Middle East and North Africa. In the US west, mountain snowpack is declining,
threatening water supplies for the region.
"There is so much information, so much evidence, that we can no longer plead ignorance," says Michel Jarraud, secretary general of the World Meteorological Organization.
More Reports on Climate Change
The World Meteorological Organization released its annual report, Statement on the Status of the Global Climate in 2013, which says,
"Extreme weather systems wreaking havoc across the world would be "virtually impossible" without man-made climate change.
Over the past 30 years, every decade has been warmer than the last, leading up to 2001-2010 – the warmest decade on record, the report says. 2013 was the sixth warmest year on record, tied with 2007.
"Naturally occurring phenomena such as volcanic eruptions or El Niño and La Niña events have always contributed to frame our climate, influenced temperatures or caused disasters like droughts and floods. But many extreme events of 2013 were consistent with what we expect as a result of human-induced climate change – heavier precipitation, more intense heat, more damage from storm surges and coastal flooding as a result of sea level rise, says Jarraud.
They cite a long list of extreme weather events that plagued the world in 2013 that are consistent with human-induced climate change:
Philippines typhoon – one of the strongest storms to ever make landfall; record-setting tornadoes in the US
Widespread heat waves in the southern hemisphere, producing Australia's warmest year ever
This winter's polar vortex, affecting parts of Europe and much of the US.
Unprecedented snowfall in Israel, Jordan, and Syria
Heavy rains and floods in India, China, Sudan and Somalia
Searing drought in California and Northeastern Brazil
Oceans reached new record high sea levels.
In response to claims that temperatures haven't risen during the past decade or so, Jarraud says, "There is no standstill in global warming. The warming of our oceans has accelerated, and at lower depths. More than 90% of the excess energy trapped by greenhouse gases is stored in the oceans. Levels of these greenhouse gases are at record levels, meaning that our atmosphere and oceans will continue to warm for centuries to come. The laws of physics are non-negotiable."
US National Academy of Sciences and the UK Royal Society
And a joint study by the US National Academy of Sciences and the UK Royal Society concludes, "We have enough evidence to warrant action being taken on climate change; it is now time for the public debate to move forward to discuss what we can do to limit the impact on our lives and those of future generations.
Their report, Climate Change: Evidence and Causes, is meant to help the public understand which aspects of climate change are well understood and areas where there is still uncertainty (such as how much sea levels will rise).
Incontrovertible evidence shows a clear warming trend since the 19th century when industrialization began, with current carbon levels the highest in 800,000 years.
"Measurements that distinguish between the different forms of carbon in the atmosphere provide clear evidence that the increased amount of carbon comes primarily from combustion of fossil fuels, and discusses why the warming that has occurred along with the increase in carbon can't be explained by natural causes such as variations in the sun's output."
(Visited 19,109 times, 4 visits today)