The 2013 LEED for Homes Awards, announced recently by the US Green Building Council, recognizes an earth-sheltered farmstead, a developer of green apartment communities, and a NYC affordable housing developer, among others.
Outstanding Single Family Home of the Year:
Located in the mountains of Stuart, Virginia, the Wallace Residence has it all! The earth-sheltered home is certified LEED Platinum and as an energy-positive Passive House. It consumes 90% less energy for heating than a typical
house, and even on the coldest winter nights, can be heated with the energy of two hair dryers. A 12 kW solar PV array on the barn supplies all the electricity. They wanted a home where a cow could graze on the roof, say architects Kaplan Thompson.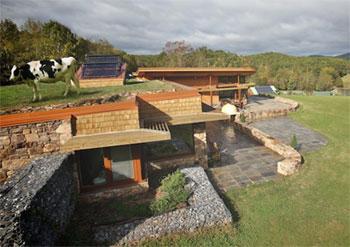 AMLI Residential: Outstanding Commitment to LEED-certified construction and Outstanding Multifamily Builder.

Georgia-based AMLI Residential develops, acquires and manages green apartment communities that all pursue LEED certification. It currently has seven certified projects, and expects triple that next year.
AMLI at Escena is a garden-style, 440-unit complex in Irving, Texas that's LEED-Gold certified. Apartment dwellers benefit from the company's emphasis on energy and water conservation and the healthy indoor air.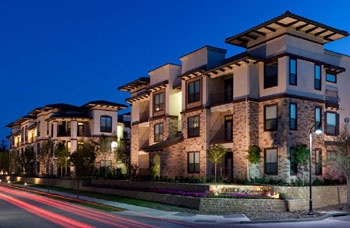 Outstanding Affordable Developer:
Blue Sea Development Co.
Since 2006, every construction project by this NYC City
affordable housing developer has earned LEED
certification, "demonstrating continuous improvement, fearless
innovation and large-scale development of certified green housing."
Their most recent project is the most impressive so far – the 124 apartment
Arbor House in the Bronx. The 8-story, LEED-Platinum building runs on four micro-combined heat and power
turbines and has a 10,000-square-foot hydroponic greenhouse on the roof, irrigated by an elaborate rainwater
harvesting system.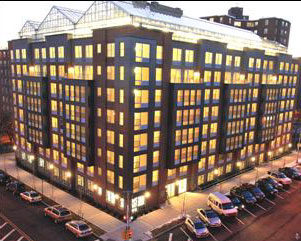 Outstanding
Multifamily Project: Stack House by Vulcan Real Estate
Situated on a full city block in the emerging South Lake Union neighborhood in Seattle, Stack House consists of two mixed-use residential
projects with the restoration of the Supply Laundry
Building, a historic landmark.
The full block development is broken into a
series of smaller, quarter-block masses more characteristic of the
neighborhood. They are connected by pedestrian-oriented passageways that
guide residents and passersby into public plaza and courtyard spaces.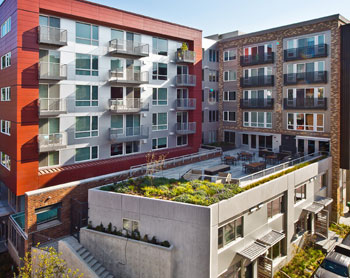 Learn more about LEED for Homes:
(Visited 5,760 times, 45 visits today)