After a tough few years, Vestas Wind Systems has regained its long-time position as the world's leading wind turbine manufacturer.
After a world lull in orders from 2011-2012, Vestas tied with General Electric (GE) for the top slot, but now Vestas has completed a turn-around plan, cutting costs 30%. It is debt-free and profitable again. Vestas (CPH: VWS) trades on the Copenhagen exchange and OTC in the US (VWDRY).
As for GE, it's no longer in the top five, according to MAKE Consulting. Last year, GE installed 980.2 megawatts of wind turbines, 80% lower than 2012.
GE enjoyed a strong surge in orders in 2012 as developers rushed to get projects going before the wind production tax credit expired in the US – where almost all of GE's sales are (96%).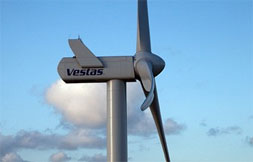 But now, even in GE's home territory, Vestas is winning many big contracts, so much so that it's expanding its US workforce after some pretty big layoffs a couple of years ago. It is in the process of hiring about 900 people to build 900 turbines this year at its four Colorado factories. After this round of hiring, Vestas will employ more than 2000 people in Colorado.
"Our world-class Colorado factories help us compete in the US market," says Chris Brown, President of Vestas' sales and service division in the US and Canada. "Since we opened our first factory in the US six years ago, it's allowed us to conduct business in American dollars, build a domestic supply chain, and reduce transportation costs."
Based on orders received in 2013, Vestas has the potential for an additional 2.6 GW of turbine sales in the US and Canada, and it also exports from the Colorado plants, sending blades, towers and nacelles to projects in Mexico, Brazil and Uruguay.
The wind industry now has an important footprint in the US with 550 factories in 44 states, according to the American Wind Energy Association (AWEA).
Vestas also has the biggest wind turbine in the industry, a mammoth 8 MW turbine that's undergoing testing for offshore wind at the Danish National Test Center for Large Wind Turbines. Expected to enter mass production next year, the gigantic turbine will beat today's biggest turbine's energy output by 30%.
Top Five Turbine Makers
Replacing GE in the #2 spot is Germany-based Enercon. Last year, it installed over 2.3 gigawatts in its biggest markets: Germany (1.5 GW), Canada (583 MW) and Turkey (237 MW).
And while no Chinese wind turbine supplier made the top five list in 2012, China's wind projects are moving forward again, putting its leading domestic supplier Goldwind in third place.
Siemens slipped to fourth place.
Another new entrant in the top five is India-based Suzlon Group because of large installations in Canada, Germany and Poland last year, according to GlobalData.
Top Wind Suppliers 2013




Check out the world's largest turbines:
(Visited 4,669 times, 10 visits today)