To help wave and tidal energy take off, the Department of Energy (DOE) is turning to computer coders for help.
Unlike hydropower, there are hundreds of potentially viable technologies in this emerging industry – that captures energy from waves, tides and currents in rivers and oceans – which have to be evaluated on their technical and economic viability.
To move this along as quickly as possible, DOE's Water Power Program has launched a competition among computer coders, with the goal of developing software that models the workings of wave energy. Specifically, coders are competing on how a wave energy converter device responds to ocean waves of various heights and time periods.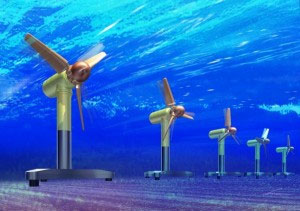 Partners for the Open-WARP Challenge (Open Wave Analysis and Response Program) are NASA's Center of Excellence for Collaborative Innovation (CoECI) and Harvard Business School.
TopCoder – one of the world's largest programmer communities – is running Open-WARP, which consists of a series of contests with cash prizes.
Past coding competitions have generated high quality code quickly and cost effectively, says DOE. They have been successfully used to solve problems such as monitoring air pollution in cities and optimizing power generation at the International Space Station.
The winning Open-WARP code will become part of the Wave Energy Converter Simulation (WEC-Sim), open-source software that simulates the performance of wave energy designs in generating electric power. Engineers are currently developing the software at DOE's National Renewable Energy Lab and Sandia National Lab.
Check out DOE's Water program:
(Visited 4,985 times, 7 visits today)