Chicago will soon be the site for one of the few LEED-Platinum factories in the US, where environmental cleaning products from soaps to laundry detergent will be produced.
Method, now a subsidiary of green cleaning product pioneer, Ecover, hired William McDonough + Partners to design the factory.
The state-of-the-art facility is going up in Chicago's historic Pullman district, where Pullman railroad cars were built. The 175-acre area is in the midst of a decade-long renovation, which will have homes, retail, a neighborhood recreation center and a park. Before constructing the factory next year, Method will first clean up its 22-acre site – where Ryerson steel mill was – which is now a brownfield.
It's an unusual place for a factory but that's a testament to green building. "We have images of factories as gritty buildings with smokestacks – that no families would want in or near their neighborhoods. This will be a clean factory. The energy will be clean. The production will be clean," says Bill McDonough. "Entrepreneurial companies like Method are modeling a new, clean industrial model for our country."
"We hope it serves as a model of what manufacturing and urban revitalization looks like in the 21st century," says Drew Fraser, CEO of Method. "We aim to show that sustainable business is better business by creating an advanced, flexible and cost-effective facility that will fuel both the growth of our business and the renewal of the Pullman area."
The 150,000-square-foot building will cover five acres and the rest will be converted back to nature with native trees and plants that harken back to the Pullman era.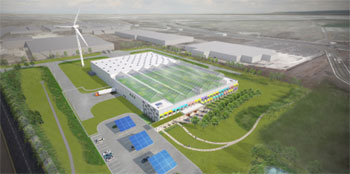 As most LEED buildings are today, this one will be built to serve pedestrians with easy access to mass transit. A transparent wall on the south side of the building will allow in lots of sunlight and people walking by will be able to look in and see the factory operating.
A green roof will provide food for the community and materials for the building have been Cradle-to-Cradle certified, as part of the latest version of LEED.
Solar PV "trees" will shade the parking lot and solar thermal panels will provide hot water for factory processes.
Combined with a refurbished wind turbine, renewable energy will provide half its electricity.

75% of Method's products have received McDonough's Cradle to Cradle Gold certification.
Method plans to open the plant to public tours that showcase its environmental manufacturing processes.
After buying Method, Belgium-based Ecover is the world's largest green cleaner manufacturer. In business since 1980, Ecover has always been a leader on responsible manufacturing processes and ingredients. Its Belgium factory runs completely on renewable energy and it invented PlantPlastic, a type of polyethylene that is renewable, reusable and recyclable.
The only other LEED-Platinum factory we're aware of in the US is Volkswagen's auto manufacturing plant in Tennessee.
(Visited 7,005 times, 50 visits today)