Success in the lab doesn't always translate to commercial conditions, but scientists at Michigan State University have invented a technology that increases the odds for algae-based biofuels.
Their environmental photobioreactor is the world's first standardized growing platform for algae.
Scientists compare it to a pond in a jar. There, they can identify,
cultivate and test various algal strains that will work well in real-world situations.
Although algae has enormous potential for producing oil that can replace petroleum, strains that do well in the lab often flop elsewhere.
The brainchild of David Kramer, Hannah Distinguished Professor of Biochemistry and Molecular Biology at Michigan State, his algae lab looks more like an electronics factory. Benches are covered with wires, soldering irons and printed circuit boards, glowing green as they test various algae strains.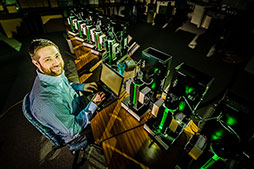 The bioreactors are
about the size of a coffee maker and can induce changes in light, temperature,
carbon dioxide, oxygen, evaporation, nutrient availability and other variables.
Importantly, it can duplicate and confirm results
from experiments conducted anywhere in the world.
A startup company, Phenometrics, has already formed that sells the bioreactors. After just two years it has steady orders and runs in the black.
Best Locations for Algae Growth
At the other end of the spectrum, Pacific Northwest National Lab and algae-producer Sapphire Energy have identified the best places to grow algae in the US – where it can be most productive.
The ideal locations are around the Gulf Coast, especially in Florida, but also on the southern coast of Texas, Louisiana and southern Arkansas. Although there are potential sites across the US, this is where commercially grown algae would have easy access to the infrastructure it needs.
Criteria for success includes:
warm, sunny climate
available water
reasonably priced land that has good soil
near transportation and utility infrastructure
local issues: regulations, tax incentives, receptivity of the people that live there and ecological constraints.
"Our analysis reduced the number of potential sites from nearly 100,000 down to a narrow set of the most promising sites," says Erik Venteris, a research engineer at Pacific Northwest National Lab and co-author of "Siting Algae Cultivation Facilities for Biofuel Production in the United States: Trade-Offs between Growth Rate, Site Constructability, Water Availability, and Infrastructure."
"Effectively siting algae cultivation facilities for commercial biofuel production is critical to success," explains Margaret McCormick, chair of the Algae Biomass Organization. "The biology is so complex, existing 'off-the-shelf' measurement tools fall short. Because this analysis considers numerous variables along with real-world algae cultivation data, it offers project developers a much more complete and rigorous evaluation of sites."
Growing algae in open ponds is particularly challenging because they could be thousands of acres in size.
"By combining Sapphire Energy's knowledge and experience gained from operating the world's first commercial demonstration algae production facility with PNNL's rigorous tools and analysis, we were able to identify potential sites for the commercial production of algae biofuels in the US," says Tim Zenk, vice president of corporate affairs at Sapphire Energy.
The algae industry is rapidly emerging as an opportunity to address many of the energy, food, economic, and environmental challenges facing the world today, they say. Algae can simultaneously fuel vehicles and airplanes, recycle carbon, provide nutrition for animals and people and create jobs for millions of Americans.
Algae's ability to produce high yields, grow in saltwater and on marginal land means it can be cultivated at large scale without harmful impacts on freshwater supplies or valuable agricultural land.
Last year, an Algae Caucus formed in Congress to help the industry to get off the ground. The algae biofuels market is expected to reach $1.6 billion by 2015.
(Visited 11,053 times, 4 visits today)