"We can't leave this kind of clean investment up to governments, which are cutting their own debts and are only worried about winning the next election," British fashion designer Vivienne Westwood told Bloomberg. "Nor can we leave it up to investment banks, with their short-term profit motivations."
She's referring to people investing directly in wind and solar through crowdfunding on the web.
In the US, Mosaic is making a hit, but interest is just as strong in Europe. In the UK, such projects raised 51.2 million pounds last year, almost 7% of all crowdfunding projects, according to the UK Crowd Funding Association, reports Bloomberg.
UK clean energy crowdfunding platforms Trillion and Abundance Generation started up last year and are projecting returns of 6-9% for investors.
Solar and wind are ideal crowdfunding targets because once they are installed they produce reliable, long term returns.
Last year, 1,700 Dutch households raised $1.8 million in 13 hours to buy shares in a wind turbine.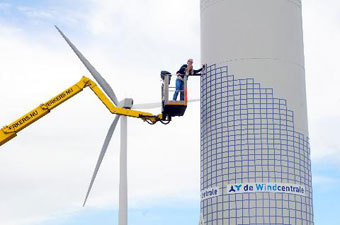 SolarCity made news when it recently announced it will launch an online marketplace where everyone can invest in its solar portfolio.
While banks now lend to big solar projects, they still aren't much interested in the small ones – which are the vast majority.
Even the ocean energy industry has launched its own crowdfunding platform, Clean Reach.
Here's a list of relevant crowdfunding sites in the US:
Read our article, What Happened to the JOBS Act? Leaves Crowdfunding Investors Unprotected.
(Visited 6,495 times, 2 visits today)