In the only Congress that hasn't designated a single acre of land for protection since WWII, both houses approved a new Wilderness Area, the 32,500 acre Michigan's Sleeping Bear Dunes National Lakeshore.
Encompassing 35 miles of Lake Michigan coastline and 50,000 acres of land, the closest city is Traverse City, 25 miles away. It is the second largest Wilderness Area in the state after Lake Superior's Isle Royale Wilderness, and is famous for rolling sand dunes that can reach 450 feet high.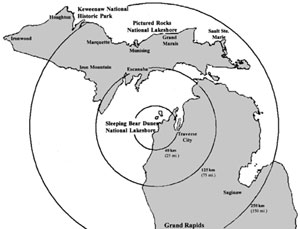 A haven for wildlife of all kinds, it shelters 240 species of birds, whitetail deer, beavers, porcupines and foxes. There are 26 lakes and ponds, wetlands and bogs, providing habitat for 93 species of fish.
The Wilderness designation applies to half of this National Park – which totals 65 miles of coastline and 77,000 acres.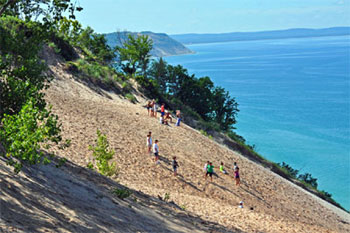 When Congress sets aside land it does so under various designations, each of which gets a different level of protection. The lowest designation is National Forest, where logging, grazing and mining is allowed. The highest designations is Wilderness:
As defined by the Wilderness Act of 1964, it is an "an area where the earth and its community of life are untrammeled by man, where man himself is a visitor who does not remain."
On this 50th anniversary of the Wilderness Act, 109 million acres are protected across the US in 662 Wilderness Area. That's less than 2% of land in the lower 48 states.
As he signed the Wilderness Act into law, President Johnson said: "If future generations are to remember us with gratitude rather than contempt, we must leave them something more than the miracles of technology. We must leave them a glimpse of the world as it was in the beginning, not just after we got through with it."
That couldn't be more true today.
Dunes at Sleeping Bear: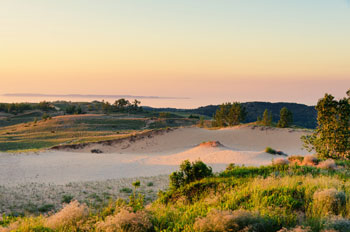 President Obama has used his executive authority to create 9 new national monuments, permanently protecting several hundreds of thousands of acres of public land. But he too has preserved less land than most previous presidents.
The Interior Department established 10 new national parks and 10 new national wildlife refuges during his first term.
28 other areas are waiting Wilderness protection, Sleeping Dunes waited since 1981. Protecting these lands is crucial because the Obama Administration is opening so much public land to energy development, both fossil fuels and renewables.
During Obama's first term, the twin goals of energy development and environmental protection were not balanced. While 2.6 million acres were closed off to development, 6.3 million acres were opened to oil and gas leasing. US forests offset 11% of industrial greenhouse gas emissions, according to the Forest Service.
Yet another PAC has been formed to support Congressional candidates, and this one has a loftier goal than most.
Last year, America's Conservation PAC formed to support candidates – regardless of political party – who are committed to investing in and expanding national parks and other publicly owned lands.
While Republicans made a huge issue of closed National Parks when they shut down the government, they have deprived parks of the funding they need for many years, leaving them in deplorable condition.
Explore Sleeping Dunes:
(Visited 4,514 times, 6 visits today)