While many feared California would turn to natural gas to replace the electricity from its shuttered San Onofre nuclear plant, the state is holding firm to its commitment to rely increasingly on renewable energy and efficiency.
In its final strategy, the California Public Utilities Commission (CPUC) sticks to "preferred resources" to provide much of the electricity to the Los Angeles/ San Diego area: energy efficiency technologies such as demand response, upgrades to the grid, energy storage and renewable energy.
Under the plan, the two utilities must use at least 600 MW of "preferred resources" (the output of two medium-sized fossil fuel plants) and 400-900 MW from "any new source" as needed, which will also hopefully come from renewables.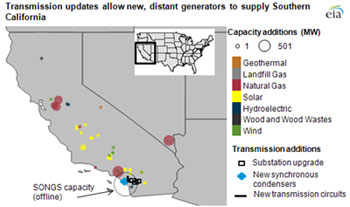 The Natural Resource Defense Council modeled the energy needed and found there's no need for more natural gas because of 733 MW of lower energy consumption from building and appliance standards and utility efficiency programs. And since then, even more stringent appliance efficiency standards have been approved by the US Department of Energy for microwaves and commercial refrigerators.
Renewable sources could provide at least two-thirds of the energy and potentially 100% to replace the enormous 2.2 gigawatt nuclear plant, which delivered electricity 1.4 million homes, they say.
Besides the climate and health benefits associated with greater use of clean energy, the state will avoid building multiple natural gas plants. While nuclear provided emissions-free electricity, more gas plants would make it hard for California to meet its climate change targets and existing plants in the area already contribute to some of the dirtiest air in the US.

To make sure utilities fill any power gaps with clean resources, NRDC recommends:
making the electric grid more resilient through transmission system upgrades;
adding renewable energy in various geographic areas to take advantage of the different times they are available;
avoid new generation through more aggressive efforts to help customers:


improve the efficiency of their homes and businesses;
reduce consumption during costly "peak" periods;
use clean on-site generation like solar panels.
(Visited 6,500 times, 1 visits today)