Tesla is back in the news again, this time announcing plans for a Gigafactory, which could transform the power industry as much as advance its electric car.
The company plans to start construction of the world's biggest battery factory next year, up and running in 2017. The goal is to quickly bring down the cost of batteries – 30% lower per kilowatt cost in the first year – to produce a "compelling, affordable electric car in about three years," and accelerate battery innovation – a game-changer for electric cars and the entire energy storage industry.
Musk says the retail price for the Model S will be cut in half from the current $71,000 and the stationery battery he's developing will soon allow homeowners and businesses to use solar energy throughout the day and night.
CEO Elon Musk expects to produce batteries for 500,000 vehicles by 2020 at the 30 gigawatt factory – a gigantic 10 million square foot space that employs some 6000 people. Tesla says its choosing between Nevada, New Mexico, Arizona and Texas for the location. It will run on solar and wind.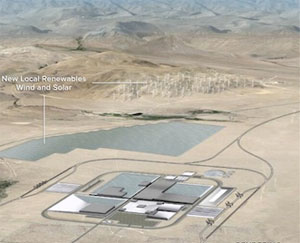 Musk will invest $2 billion, and the remainder of the $4 billion to $5 billion needed through 2020 will come from $1.6 billion in convertible notes and as yet unnamed partners, which could be Panasonic, Samsung and even Apple. The vertically integrated facility would bring battery manufacturing under one roof – precursor material, cell, module and pack production.
The gigafactory will quickly achieve economies of scale and lower costs through innovative manufacturing processes, reduction of logistics waste, optimization of co-located processes and reduced overhead, Tesla says.
Because of competition, battery prices are already dropping, which could bring EVs with a 150-mile range starting this year.
"If it can be a leader in commercializing battery packs, investors may never look at Tesla the same way again. If Tesla can become the world's low-cost producer in energy storage, we see significant optionality for Tesla to disrupt adjacent industries." Morgan Stanley Adam Jonas, told Bloomberg.
"Battery storage is the holy grail of the distributed generation movement," Morningstar analyst Travis Miller, told Bloomberg. "If developers can create a high-capacity battery technology, it opens the door to a significant increase in options for customers to supply their own power."
"If you can get batteries cheap enough and combine them with solar panels, you no longer need the utility," Navigant analyst Sam Jaffe says. "Then the question is how cheap does it have to be? About 70% cheaper, he estimates.
SolarCity currently sells Tesla's batteries as an adjunct for energy storage and NRG Energy is selling power generated by electric cars to the grid.
"We believe the days when Tesla was known as purely an auto company are numbered," says Jonas. "We are witnessing the most disruptive intersection of manufacturing, innovation and capital experienced by the auto industry in more than a century."
Tesla's shares hit $262 this week ($30 billion market cap), as it beat analyst projections for the fourth quarter of 2013, and its Model S sedan was honored as the first US car to receive Consumer Reports' "Best Overall Car" of the year.
That's after receiving the "Car of the Year" award from Motor Trend magazine and the highest safety ratings from the National Highway Traffic Safety Administration.
Consumer Reports says:
"Sure, you can talk about this electric luxury car's blistering acceleration, razor-sharp handling, compliant ride, and versatile cabin, which can fit a small third-row seat. But that just scratches the surface of this technological tour de force. The Tesla is brimming with innovation. Its massive, easy-to-use 17-inch touch screen controls most functions. And with its totally keyless operation, full Internet access, and ultra-quiet, zero-emission driving experience, the Tesla is a glimpse into a future where cars and computers coexist in seamless harmony. Its 225-mile driving range and 5-hour charges, using Tesla's special connector, also make it the easiest, most practical, albeit pricey, electric car to live with."
Tesla sold 6,892 cars in Q4 (top seller in its price category) and expects to ship 35,000 this year. Its solar-charging network is up and running across most of the US and Europe. Most of its growth won't be in North America, it says, it will be Europe, China and elsewhere.
(Visited 22,499 times, 17 visits today)