Last month, we reported that the US solar industry now employs 143,000 people, more than the coal and gas industries combined – and now, The Solar Foundation released data on where those jobs are across the country.
California continues to lead with 47,223 solar jobs, adding 3,523 jobs in 2013, and Arizona is next with 8,558 jobs (actually down in 2013).
#3 New Jersey: 6500
#4 Massachusetts: 6400
#5 New York: 5000
#6 Texas: 4100
#7 Florida: 4000
#8 Ohio: 3800
#9 Colorado: 3600
#10 North Carolina: 3100
18 states including North Carolina and Georgia more than doubled solar jobs in 2013, but California, Arizona, New Jersey, and Massachusetts account for nearly 50% of total solar jobs in the U.S.
The New England region has about 20% of the solar workforce with over 25,000 solar jobs. Even the Southern states, which have been slow to adopt solar, have 22,000 jobs.
The vast majority of solar jobs, around 70%, are in manufacturing and installation.
"Our state solar jobs research this year clearly shows that solar energy can be harnessed anywhere, and that growth rates are not necessarily associated with geography, total amount of sunshine, or political party," says Andrea Luecke, Executive Director of The Solar Foundation.
Still, 12 states account for 85% of all solar capacity in the US, reports Environment America.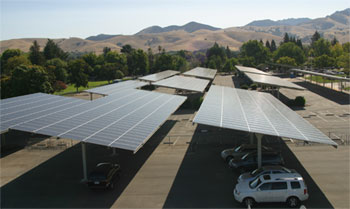 As you probably know, much of the growth comes from the solar leasing model. Last year, the top firms in this space raised $3.34 in 22 funds that pay the upfront costs of installing rooftop solar, according to Mercom Capital.
The top five players continue to be: Vivint Solar ($780 million raised in 2013); Solar City ($665 million), SunRun ($630 million), SunPower ($350 million) and Sun Edison ($200 million).
SolarCity alone created over 2,000 jobs last year.
The US installed 4.3 gigawatts (GW) in 2013, bringing the cumulative total close to 15 GW.
Here's a map that shows how many solar jobs each state has:
Website:
[sorry this link is no longer available]
(Visited 4,894 times, 6 visits today)