President Obama is in California today, where he is meeting with Governor Brown, the state's two senators and local leaders and farmers.
While the state finally got much needed rain, there's a long way to go before it is no longer in drought. Last week, farmers made plans to leave some 500,000 acres out of production in an area that provides half of America's fruits and vegetables.
The White House announced many measures federal agencies are taking to help the state cope with the historic drought:
$100 million in livestock disaster assistance. This program, part of the 2014 Farm Bill, will be fast-tracked.

$15 million in targeted conservation assistance for the most extreme and exceptional drought areas – $5 million in additional assistance to California and $10 million for drought-impacted areas in Texas, Oklahoma, Nebraska, Colorado and New Mexico. It will helps farmers and ranchers implement conservation practices that
conserve scarce water resources, reduce wind erosion on drought-impacted fields and improve livestock access to water.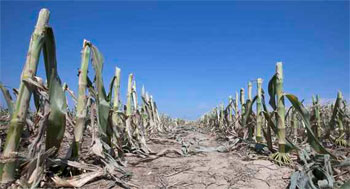 $5 million in targeted Emergency Watershed Protection Program assistance to the most drought impacted areas of California to protect vulnerable soils. This funding will help drought-ravaged communities and private landowners address watershed impairments, such as stabilizing stream banks and replanting upland sites
stripped of vegetation.
$60 million for food banks in California to help families that may be economically impacted by the drought through the the Emergency Food Assistance Program (TEFAP).
600 summer meal sites in California's drought
stricken areas.

$3 million in Emergency Water Assistance Grants for rural communities experiencing water shortages. The money will help rural communities that are experiencing a significant decline in the quality or quantity of drinking water due to the drought obtain or maintain water sources
of sufficient quantity and quality. California state health officials have identified 17 small community water districts in 10 counties that could run out of water in 60-120 days.
Reduce Federal facilities' water usage: Federal facilities in California must immediately curb water use, building on efforts underway across the country to cut water use 26%.
Today's announcement is in addition to steps that have already been taken, such as providing specialized weather analysis. NOAA's River Forecast Centers, for example, supply forecasts of stream flow and runoff that help inform water supply decisions.
The US Department of Agriculture declared 54 counties in California as natural disaster areas, giving farmers and ranchers access to emergency loans. $20 million has been made available for conservation enhancements on key agricultural lands that increase irrigation efficiency, plant cover crops and protect grazing lands. Another $14 million in grants will upgrade water delivery infrastructure and on-farm irrigation equipment to conserve water.
And fire fighters are ready.
Republicans tried to force through a bill that would direct water to farmers, putting wildlife and communities at risk. Calling the legislation a "divisive intrusion" into the state's efforts, Governor Brown said the president would see the devastation for himself and recognize that the federal government needs to invest in the water projects the state wants.
"We have to fundamentally change the way we manage water," Peter Gleick, president of the Pacific Institute, told Bloomberg News.
Here is the Fact Sheet on the White House response:
Website:
[sorry this link is no longer available]
(Visited 4,640 times, 1 visits today)