by Rona Fried
Three years after Japan's nuclear meltdown, Fukushima Prefecture announced it will transition to 100% renewable energy by 2040.
The region, which has a population of about two million people, doesn't want to return to nuclear power even as the national government remains committed to getting the reactors back online. A recent survey shows that 53% of Japan's citizens want nuclear power phased out and 23% want it shut down now.
Currently, Fukushima gets 22% of its energy from renewable sources. One of Japan's biggest solar projects could be located there, but residents also want to bring back small farming communities.
Called "Solar Sharing," farmers are growing crops underneath solar panels. They are growing crops like canola – which absorbs radiation – in an effort to decontaminate their farmland and their abandoned livelihoods. Solar panels are designed on a pergola-type structure that lets in enough sun to grow crops below.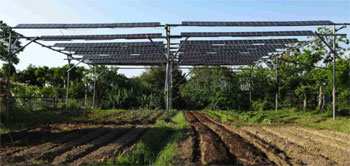 They are also planning 1 GW of offshore wind off Fukushima's coast by 2020, where a $226 million floating offshore wind farm project is already in motion.
Nagano, the Japanese prefecture which hosted the Winter Olympics in 1998, has pledged to switch to 100% renewable energy by 2050.
The nuclear disaster has changed the way people think about energy, Tetsunari Iida, director of the Institute for Sustainable Energy Policies in Japan, told Responding to Climate Change (RTCC). On the other hand, community power development offers a sense of "local ownership and participation."
In Germany, 74 regions and municipalities have already reached 100% renewable energy, according to the newly established Global 100% Renewable Energy Campaign.
At the Warsaw Climate Summit last November, delegates were stunned when the Japanese national government rolled back its long-held target of cutting emissions 25% below 1990 levels by 2020. The new target is 3.8% below 2005 levels by 2020.
Japan's Growing Pains
After implementing the world's most generous feed-in tariff two years ago, Japan is now the world's second-largest solar PV market, installing 7 gigawatts in 2013 (the country has 10.5 GW installed in total). Developers turned more to solar than wind or geothermal because it's cheaper and quicker to develop.
The government target for solar is 28 GW by 2020 – and 40% renewable energy by 2030 – and corporations from Softbank to First Solar have been rushing to fulfill it, with 22.4 GW already approved.
Kyocera's floating solar plant: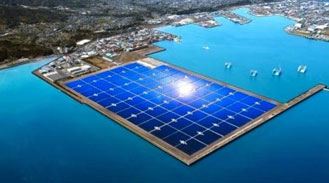 But developers are running into a raft of barriers, most notably limits to grid capacity, but also finding available land, waiting lists for components and a shortage of qualified technicians.
For example, Softbank's 180-plus GW solar project – three large projects on the island of Hokkaido – has been put on hold because the utility hasn't decided which projects will be able to connect to the grid.
About a quarter of all solar projects are being built on Hokkaido, Japan's second largest island, because it's one of few areas with relatively large pieces of inexpensive land. But the grid can't handle all those projects. About 20% are being denied access to the grid altogether and 37% have been told they will have limited access, according to survey by the Japan Renewable Energy Foundation.
To deal with that, the government is building the world's largest battery bank in Hokkaido (the northern part of Japan) and another, much smaller, 2 MW bank in Okinawa (the southern part) to stabilize the flow of solar energy. It will invest $33 billion on grid modernization and development over the next 10 years, particularly to spur growth of wind energy.
Meanwhile, Panasonic's work around to the situation is to focus on small rooftop solar. "Rooftops don't require the purchase of land, and there are transmission lines already available nearby. "Rooftops are going to be more popular," Kazuhiro Yoshida, who heads the solar division, told Bloomberg.
Kyocera is supplying solar panels for installations that spread across 80 farms in Japan.
Learn more about the Global 100% Renewable Energy Campaign:
(Visited 13,444 times, 10 visits today)