Electric vehicles (EVs) are slowly winding their way into the hearts and minds of drivers and the pace is expected to pick up this year.
Worldwide production of all-electric and plug-in vehicles is expected to rise 67% in 2014 to 403,000 vehicles, up from 242,000 last year, according to market research firm IHS Automotive, when they were the fastest growing segment of the auto industry.
Last year, 96,000 EVs sold in the US.
Thanks to competition, battery prices are dropping rapidly – the most costly component of EVs – starting this year, bigger batteries will be in many cars, giving them a 150 mile range.
Battery makers now include LG Chem (Chevy Volt), Panasonic (Tesla's Model S) and
Samsung SDI (BMW i3 and Fiat 500e).
IHS points to two reasons for greater growth this year: more stringent emission standards in Europe which take effect later this year and the greater variety of models available on the market.
New vehicles entering the market this year include: BMW's i3, Volkswagen's e-Up!, Mercedes-Benz B-Class Electric and Audi's A3 e-tron plug-in hybrid. More product availability and greater choice will help widespread adoption of EVs.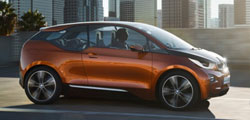 At the same time, the installed base of EV charging stations is hitting critical mass at over 1.1 million units worldwide by the end of this year.

All this means the price for EVs will start coming down as more manufacturers enter the market, coupled with lower battery prices. Nissan's LEAF is now profitable since it dropped the price $6000.
Then there are the exciting innovations ahead, such as flow batteries, Ford's C-MAX Solar Energi Concept which charges from rooftop solar panels, Volvo's use of car panels to store energy, which and Bosch's start/stop system that not only shuts the engine off when the car is idling, but when it's coasting – cutting fuel consumption another 10%.
And though negligible today, the market for electric vehicles that are equipped with vehicle-to-grid (V2G) technologies will expand slowly and steadily over the coming years.
"Compelling business models for V2G technologies are starting to emerge in select markets around the world, and it's expected that individually owned electric vehicles will be able to participate in grid services in the second half of this decade," says Navigant Research. They expect over 250,000 V2G-enabled PEVs to be sold worldwide by 2022.
"Plug-in electric vehicles can provide services to the grid by changing the rate at which they consume power, thereby reducing peak loads, or by providing power back to the grid, helping to balance loads on the grid," says Scott Shepard, research analyst at Navigant. "The benefits to operators also include smoothing the integration of renewable energy resources and generation revenue from ancillary services markets."
The US Department of Defense is installing 500 V2G-enabled PEVs at military bases in specific U.S. electricity markets this year.
(Visited 21,625 times, 5 visits today)