The EPA presented its 2013 Smart Growth award to seven communities across the US for projects "that
better protect human health and the environment while strengthening local economies."
Projects range from Atlanta's greenway to a downtown whitewater rafting park in Iowa, from a regional development plan for metropolitan Chicago to a housing development in Sacramento.

Atlanta Beltline Eastside Trail/Historic Fourth Ward Park
The Atlanta BeltLine is a 22-mile loop of mostly abandoned rail corridors that's being redeveloped into a network of streetcar and light-rail transit, multi-use trails, 1,300 acres of green space, thousands of affordable homes, and billions of dollars worth of new economic development.
When it's complete, it will connect neighborhoods throughout the city by providing bikeable, walkable pathways, shared public spaces and easy access to local businesses.
The award goes to the 2.25-mile Eastside Trail – the first section to be redeveloped. It connects five neighborhoods through 30 acres of greenway, a pedestrian and bicycle trail, and an arboretum. The trail connects to Historic Fourth Ward Park, a cleaned-up brownfield that is now a 17-acre park with a lake that handles stormwater runoff. The trail and park have spurred more over $775 million in private development, including 1,000 mixed-income condos and apartments that are under construction.
Sierra Club calls it one of the best transportation projects in the US in its accounting of the best and worst projects.

Charles City Riverfront Park, Charles City, Iowa

Tired of the constant fight against the often-flooded Cedar River that runs through the center of town, the city turned it into a riverfront park with a whitewater course.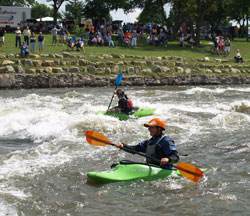 The park connects to downtown and adjacent low-income housing and has become the recreational heart of the city. It now capitalizes on the river's natural features that will prevent future floods, and is a model for how to strategically use flooded properties to create a sustainable and economically valuable amenity.
GO TO 2040, Chicago Metropolitan Agency for Planning
This seven county plan is Chicago's first comprehensive plan since 1909. Adopted unanimously in 2010, it envisions a region where residents have more housing and transportation options, parks and open space, jobs closer to home, cleaner air and water and a better quality of life.
The plan has four themes: livable communities, human capital, efficient governance, and regional mobility. Over 100 projects have been initiated and half are already finished, such as creating green infrastructure and redeveloping vacant land.
It harmonizes fragmented efforts of local governments into a single comprehensive regional plan that can accommodate the anticipated addition of 2 million people over the next 30 years.
EPA says they chose the winners based on their effectiveness in creating sustainable communities; fostering equitable
development among public, private, and nonprofit stakeholders; and serving as national models for environmentally and economically sustainable development.
Southern California passed a visionary smart growth plan in 2012 and smart growth prevails in the recovering housing market.
More information on the winners, including videos, is here:
Website:
[sorry this link is no longer available]
(Visited 3,413 times, 2 visits today)