While President Obama nibbled at the edges of climate change and renewable energy in his State of the Union address, World Bank President Jim Yong Kim called on the world's governments to take serious action on climate change.
It was great that Obama made a point of emphatically stating that "climate change is a FACT," but he still sees it as this relatively small item that can be dealt with at the same time as producing historic levels of fossil fuels in the US.
That attitude is exactly what President Jim Yong Kim pointed to in his speech as the World Economic Forum ended its meeting in Davos last week. Surely, there are complex factors at work here – Obama faces an incalcitrant House of Representatives where Republicans speak in one voice against the reality of climate change. There's only so much he can do without their collaboration as long as they are the majority in the House.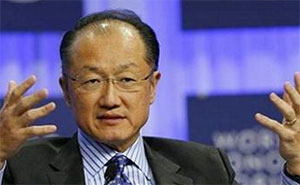 Just as Obama called for 2014 to be a "year of action," Kim says this is the year to take action on climate change. He notes that although governments are showing climate leadership, they are still focused on incremental, small steps. It's time to break out of that, he says, and create a strong structure that gets to the heart of the matter:
set a price on carbon
financial regulators must require
companies and financial institutions to assess and disclose their exposure to climate-related
risks
double the green bonds market to $20 billion this year and $50 billion by 2015; institutional investors should set targets for buying green bonds for their portfolios
"Emissions are still rising, the poor are suffering," he says. "This is the year
to take action on climate change. There are no excuses."
Kim points to the escalating expense of climate-related disasters, up from about $50 billion a year in the 1980s to $200 billion a year over
the last decade. These
impacts could roll back decades of development gains and push millions of people
back into poverty within our lifetimes, he says.
Five key areas will be the focus for The World Bank:
Fast-growing metropolitan areas need to be built out as low-carbon, climate resilient cities through assistance with low-carbon planning, energy-efficiency assessments, and securing
finance.
Climate-smart agriculture is crucial for feeding a growing population, cutting and absorbing emissions.
Accelerating investments in energy efficiency and renewables
Ending fossil fuel subsidies and developing carbon prices on emissions
Address climate-forcing pollutants such as black carbon/ soot; methane leaching from landfills and extractive industries.
Starting this year, The World Bank will work closely with
governments to help them set robust national emissions targets by providing the data and analysis necessary to do so. It will also work with advanced countries to provide the capacity-building required for the developing world to get on a clean energy trajectory.
"In 20
years, all of us will be asked the question: 'What did you do to fight climate
change?' Now is the
time to act for future generations before it is too late,"
says Kim.
"The mood, ambition and announcements at the World Economic Forum in Davos has left me feeling more energized and confident than ever that 2014 will be the year when the world can and must come together to meet the growing challenge of climate change and seize the opportunities manifest in a transition to a low carbon economy," says Christiana Figueres, the United Nations' top climate official. Undeniably, climate change is now right back up there among the top concerns of business and political leaders," she adds.
For the first time, climate was one of the top agenda items at Davos, with 24 sessions and the entire final day devoted to Climate Day.
United Nations Secretary-General Ban Ki-moon spoke to the many benefits of adjusting to new realities now. "Investment now will result in major savings in the future, and can propel economic growth today. It can support universal energy access, sustainable cities and well-being for people and the planet."
This September, the UN will host a Climate Summit that includes global leaders from all sectors of society, "to catalyze ambitious action on the ground to reduce emissions and strengthen climate resilience, and to mobilize political will for a meaningful global legal climate agreement by 2015," he told the Davos audience.
At last year's Climate Summit in Poland, governments agreed they would come to the 2015 meeting prepared to sign onto a binding, international treaty on climate change. "We know that current emissions reduction pledges are not enough to prevent a 2 degree Celsius temperature rise," says Kim.
(Visited 12,874 times, 4 visits today)