After five years of planning and construction, a solar bridge now spans the River Thames in London.
Originally built in 1886, the Victorian-era bridge has a brand new look – a canopy of 4,400 solar PV panels! They supply half the energy for the busy railroad station underneath, Blackfriars Station.


Built by Solarcentury, the 6,000-plus square meters of solar panels can generate 900,000 kilowatt hours of electricity a year, reducing the carbon footprint of the train station by about 89,000 rail trips.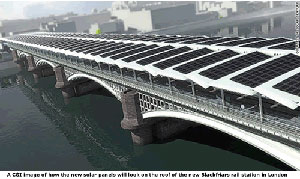 The station, which also got a makeover, features rain harvesting systems and sun pipes for natural lighting. The project is at the heart of the £6.5 billion Thameslink Programme, which working to deliver more convenient service between a range of destinations through central London.
"The dramatic transformation of Blackfriars station from a small and cramped station to a modern landmark is typical of how we are enhancing one of Europe's busiest rail routes – using smart, sustainable technology to reduce the cost of running the railway at the same time as giving passengers the longer, more frequent trains that are so desperately needed," says Simon Kirby, managing director of Network Rail Infrastructure Projects.
In addition to making a commute by electric train even more sustainable, those involved with the bridge project hope it will demonstrate that a city doesn't have to be in the tropics to take advantage of solar energy. It's also a living example that implementation of 21st century energy technologies need not detract from historic surroundings.
"Our work at Blackfriars demonstrates two key benefits of solar," explains Frans van den Heuvel, CEO of Solarcentury. "First, it can be integrated into the architecture to create a stunning addition to London's skyline. Second, it can be integrated into the most complex of engineering projects; in this case being built above a construction site, over a rail track over a river. We are confident that future major infrastructure projects can and will benefit from solar."
"The distinctive roof has also turned our station into an iconic landmark visible for miles along the River Thames," notes David Statham, Managing Director of First Capital Connect which runs Blackfriars station.

A Car-Free Highway?
Another innovative infrastructure project proposed for London is a car-free highway called SkyCycle. It looks like a typical overhead highway but it's actually a network of bike paths! Like any highway, this one would give cyclists a faster way to go long distances.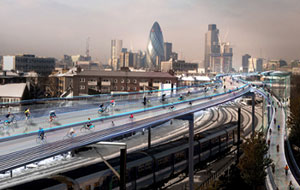 "We don't want to take anyone who's currently cycling off the roads, we want to take people who take trains, cars, and buses and put them into bikes, Sam Martin, who heads Exterior Architecture, told Fast Company.

With room for 12,000 cyclists an hour, obvious benefits are transporting people without pollution and congestion, but the architects see a dual purpose – it could also be an easy way to build a new transmission line that carries renewable energy.
"One of the biggest problems we've got is digging up the street," Huw Thomas, a partner at Foster + Partners, told Fast Company. "This would put everything in a utility dock that is easily accessible."
Essentially, it's part of their vision for future compact cities where capacity is increased in ways that don't require "digging new tunnels and building more roads."
The designers behind the plan are the designers behind the plan are Exterior Architecture, Foster + Partners, and Space Syntax. It's still in the planning phase as they work to find funding.
(Visited 7,328 times, 88 visits today)