These days, US sport teams and stadiums are competing on who is the greenest, with energy efficiency, renewable energy, recycling and composting becoming common in the professional sports world.
Once again, the National Football League (NFL) says it will serve up the greenest Super Bowl ever at MetLife Stadium in Rutherford, New Jersey.
Although it only got a score of "2" (out of 4) from the Green Restaurant Association, MetLife is the first stadium in the world to meet its rigorous standards.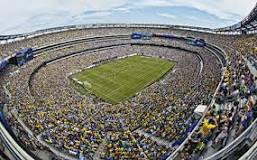 With over 200 restaurants on-site serving up to 100,000 people in a day, it's also the largest food service operation to receive this certification.
Notably, all the waste oil generated from food production will be converted into biodiesel fuel and all food scraps will be composted. Leftover food will be donated and materials such as plastic, glass, aluminum and paper will be recycled. No styrofoam containers will be used at the game. Energy Star equipment will be used to make all the food.
"From the very beginning, our Owners committed to build and operate one of the most environmentally responsible stadiums in the National Football League," says Brad Mayne, MetLife Stadium President and CEO. "We thank our partners at Delaware North for their efforts in helping MetLife Stadium become the first Certified Green Restaurant® stadium in the world."
Met-Life Stadium incorporates some solar, recycled materials in construction and in its seats, in addition to a heavy emphasis on recycling and composting during events. Other innovative stadiums include: net-zero energy for the San Francisco 49ers and Philadelphia Eagles; the Giants' edible garden; Washington Redskins; Seattle Seahawks; and a LEED-Platinum stadium in Texas.
Of the 126 professional sports teams in the five major North American leagues, 38 have shifted at least partially to renewable energy and have energy efficiency programs, reports the Natural Resources Defense Council (NRDC) and the Green Sports Alliance. They are also taking the opportunity to educate millions of people about these practices – 61% of Americans identify themselves as sports fans, compared to just 13% who follow science.
Take a look at how the stadium rates on the Green Restaurant Association's criteria:
(Visited 6,123 times, 7 visits today)