The U.S. Supreme
Court sided with Monsanto once again in issuing its January 13 decision on the landmark lawsuit, Organic Seed Growers and Trade
Association et al v. Monsanto.
They denied organic farmers the right to
argue their case in court – that if Monsanto's GMO seeds infect their crops, innocent farmers can't be sued for patent infringement.
Last year, the U.S. Court of Appeals agreed that contamination is inevitable and ruled that Monsanto can't sue American farmers unless it finds more than 1% of its patented materials on a farm. Farmers took the case to the Supreme Court to get protection beyond 1% and to extend it to Canadian farmers, who can be sued if they export to the US.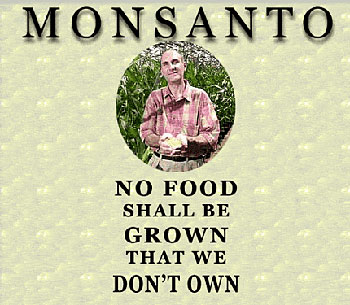 "For farmers contaminated by more than one percent, perhaps a day
will come to address whether Monsanto's patents may be asserted against them.
We are confident that if the courts ever hear such a case, they will rule for
the non-GMO farmers," says Daniel Ravicher, Executive Director of the Public Patent Foundation and lead counsel on the case.
Filed in 2011, plaintiffs consisted of 83 American and Canadian family
farmers, independent seed companies, agricultural organizations and public
interest groups. The organizations combined represent over
1 million citizens, including many non-GMO farmers and over 25% of North
America's certified organic farmers.

"The
Supreme Court failed to grasp the extreme predicament family farmers find
themselves in," says Jim Gerritsen, an organic farmer in Maine and President of the Organic Seed Growers and Trade Association, the lead plaintiff. "The Court of Appeals agreed our case had merit.
However, the safeguards they ordered are insufficient to protect our farms and
our families. This high court which gave corporations the ability to patent
life forms in 1980, and under Citizens
United in 2010 gave corporations the power to buy their way to
election victories, has now in 2014 denied farmers the basic right of
protecting themselves from the notorious patent bully Monsanto."


"We
have a fourth generation farm," says organic dairy farmer and plaintiff Rose
Marie Burroughs of California Cloverleaf Farms. "Monsanto cannot be trusted.
Their refusal to provide a binding legal covenant not to sue our fellow farmers
would make anyone wonder, what are their real motives? GMO contamination levels
can easily rise above 1% and then we would have zero protection from a costly
and burdensome lawsuit."
Significant
contamination events, including Starlink corn and LibertyLink rice, have already
cost farmers and food companies nearly $2 billion. Last year, the discovery of Monsanto's illegal GMO wheat in an Oregon farmer's
field and GMO alfalfa in Washington state sent foreign markets, where GMOs are
not wanted, reeling. In both instances farmers' economic livelihoods were put
at risk as buyers in foreign markets refused to buy the GMO contaminated crops.
Stephen Webster, who farms soybeans in Ontario, describes Monsanto's abuse: when his certified non-GMO crop became contaminated by Monsanto's seed, the crop could no longer be export to specialty markets in Japan.
"First Monsanto claimed we had too many
bees and that we were at fault for the contaminated crop," he says. "Then
they threatened to run up $100,000 in legal bills that we would have to pay."
Monsanto has sued about 1000 farmers – most have settled out-of-court rather than face the corporation's belligerent, well-financed, litigious actions.
The question is, why can't non-GMO farmers sue Monsanto for its seeds contaminating their crops?
"If organic seed is contaminated, there is no way to grow nongenetically modified crops," says Gerritsen. "The outcome will be either seed controlled directly by Monsanto or contaminated by Monsanto."


The
Organic Seed Growers and Trade Association has produced a handbook, Protecting
Organic Seed Integrity, which it is distributing free of charge to
organic farmers. It guides farmers toward best practices to avoid contamination
and maintain the integrity of organic seed, including genetic testing
protocols.
Here is the handbook:
(Visited 15,548 times, 72 visits today)