Surprisingly good news – actually shockingly good! An appeals court has ruled against the Department of Interior's approval that allows Shell to drill for oil in the Arctic.
Not only was Interior's environmental impact analysis poor, "only examining the best case scenario," it "skews the data toward fewer environmental impacts, and thus impedes a full and fair discussion of the potential effects of the project," reports Greenpeace.
The court of appeals also finds that Interior's estimate of one billion barrels of recoverable oil was "chosen arbitrarily" and that the Interior Department "based its decision on inadequate information about the amount of oil to be produced pursuant to the lease sale."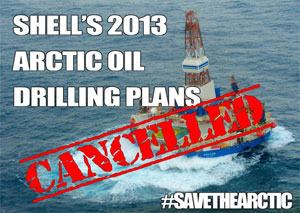 A coalition of more than 15 environmental and Alaska Native groups has been in and out of court over this since the Bush administration first proposed drilling there in 2008.
"Drilling for oil in the Chukchi Sea poses an enormous risk to the region's people and wildlife," says Gustavo Ampugnani of Greenpeace. "It locks us into a dangerous and dirty fossil fuel future, and it pushes us far closer to global climate catastrophe and the imminent hazards of extreme weather."
"Shell—one of the world's largest companies—has so far spent $5 billion dollars on this perilous Arctic folly," he continues. "As the whole world watched, their bold Arctic expedition in 2012 became a global laughing stock, as giant rigs broke free from their moorings and beached on Alaskan shores, dire storm warnings were ignored, and multiple health, safety and environmental regulations were breached."
Worst of all, Shell didn't even have a plan to clean up the inevitable disastrous spill. US Coast Guard officials have repeatedly said the resources for cleaning up an oil spill in the Arctic Ocean don't exist.
"The court decision means the Interior Department has to go back to the drawing board before it can reissue any new license to Shell," John Sauven, executive director of Greenpeace UK, told The Guardian.
(Visited 4,368 times, 14 visits today)