As we enter the new year, let's look to the future as Ford Motor Co. is doing by unveiling its vision of a solar-powered car.
Next week, C-Max Solar Energi Concept car will debut at the International Consumer Electronics Show in Las Vegas. The plug-in hybrid doesn't need an outlet to charge because it's got solar panels on the roof.
"We are starting to see a convergence that can make these things possible," Mike Tinskey, director of vehicle electrification and infrastructure for Ford, told Bloomberg.
Using SunPower 300-watt modules, the system concentrates and tracks the sun, providing the same charge as plugging in for four hours (8 kilowatts). EPA rates the car as 108 miles per gallon-equivalent for city driving and 92 miles on the highway. It can travel about 21 miles on solar electricity and has a total range of 620 miles.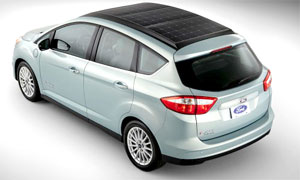 After being shown off at the convention, Ford and Georgia Institute for Technology, which are developing the car together, will test the vehicle in numerous real-world scenarios as a first step toward creating a solar production car.
Because it takes a long time to charge even using SunPower's efficient solar cells, Ford turned to Georgia Tech to develop a way to amplify the sunlight. Their solution is to use a compact lens that concentrates solar energy onto the cells – it boosts the impact by a factor of eight, says Ford. The patent-pending system tracks the sun as it moves from east to west.

Ford expects to sell 85,000 hybrids, plug-ins and all-electric vehicles this year – the first full year its six electric cars are available at dealers.
Another Ford-led initiative, "MyEnergi Lifestyle," will show how a typical American family can significantly reduce electricity bills and their carbon footprint by integrating electric vehicles, smart appliances and solar energy.
(Visited 11,574 times, 58 visits today)