Thanks to a California law that's been requiring manufacturers to disclose ingredients in cosmetics since 2005, the state has built up a significant database … and is making it available to the public.
Specifically, they must list any ingredients that are known or suspected to cause cancer, birth defects or other reproductive harm, under the California Safe Cosmetics Act of 2005.
You can now visit the California Safe Cosmetics Program Product Database online to look up ingredients, products or brands to see if they are potentially harmful.
While most people assume the FDA regulates what can go into cosmetics, they don't! It's the Wild West when it comes to cosmetics, says Janet Nudelman, co-founder of the Campaign for Safe Cosmetics. "Companies can and are using a shocking array of unsafe and cancer-causing chemicals in seemingly innocent products."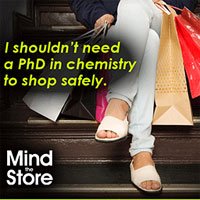 If an ingredient is on the website that means it has been identified as a known or suspected carcinogen or reproductive toxin by an authoritative body such as the International Agency for Research on Cancer or the National Toxicology Program.
Making these ingredients available to the public could force companies to finally clean up their act as people become aware of the unneccessary risk they take simply by putting on make-up and moisturizer every day.
Last year, California's Safer Consumer Products law went into effect to make hundreds of common items safer – from shampoos and cosmetics, to cleaning supplies and food packaging.
That's also why
The Safe Chemicals Act and Safe Cosmetics Act, introduced in Congress several years ago, should finally be passed. Among the many important changes it would make, the EPA would have to identify and restrict the "worst of the worst" chemicals.
The chemical industry spends staggering sums fighting these reforms, and states are taking the lead in the absence of federal action – 18 states have passed some 80 laws over the past decade.
Phthalate Levels Going Down
One example of how consumer pressure is working is that certain toxic phthalates – once found widely in pregnant womens' blood – is now substantially lower, according to a study by researchers at University of California, San Francisco.
Six kinds of phthalates are now federally banned in children's toys, and cosmetic companies are moving away from them because of consumer pressure and efforts led by the Campaign for Safe Cosmetics. Unfortunately, companies often substitute other unsafe chemicals, including other kinds of phthalates.
A decade ago, 72% of shampoos, deodorants, fragrances and other personal care products contained at least one phthalate. Now, many of the same products are free, but other products contain even more than before.
Revlon is pushing back, however. After Ultraviolet and the Breast Cancer Fund presented a petition from 45,000 people asking them to remove cancer-causing chemicals in makeup and hair dye, Revlon sent them a cease-and-desist letter.
"Women shouldn't have to worry about cancer when they apply their makeup in the morning," says Shaunna Thomas, co-founder of UltraViolet. "Young women developing cancer in record numbers should be enough for Revlon to stop lacing its products with toxic chemicals, but instead the company is fighting back against its customers and trying to silence criticism of the chemicals found in its products."
Johnson & Johnson, on the other hand, says it will remove potentially harmful and carcinogenic chemicals from its lotions and adult toiletries by 2015.
Phthalates are industrial chemicals that are used to soften plastics, but they are also found in perfume, cosmetics and building materials (no restrictions on what's included). The endocrine-disrupting chemicals are linked to birth defects, early puberty (associated with breast cancer in later life), decreased sperm counts with damaged DNA and asthma.
Here's the website:
Website:
[sorry this link is no longer available]
(Visited 5,380 times, 1 visits today)