If visiting Abu Dhabi to attend an international sustainable development conference intrigues you and you happen to write about the subject, this blogging contest is for you!
Masdar, Abu Dhabi's state-owned renewable energy company, invites writers to participate in its second international blogging contest in advance of the region's largest gathering on sustainability – Abu Dhabi Sustainability Week, January 18-24, 2014.
Not only does the winner get an all-expense paid trip to attend the event, the person will be its VIP blogger, sharing the experience with the world through daily reports.

Besides the 5-day Sustainability Week gathering – which attracts some 30,000 people – several other conferences are going on at the same time: 7th World
Future Energy Summit; 2nd International Water Summit; 6th
Zayed Future Energy Prize award ceremony and EcoWaste.
During January, Abu Dhabi tends to have balmy 75 degree F temperatures!
And perhaps most interesting of all is the chance to visit Masdar City, the $22 billion "greenest city in the world," that's being built there – not to mention one of the world's biggest concentrating solar plants. At 100 megawatts, Sham1 started producing electricity earlier this year. It has more than 258,000 mirrors mounted on 768 tracking parabolic troughs covering 617 acres.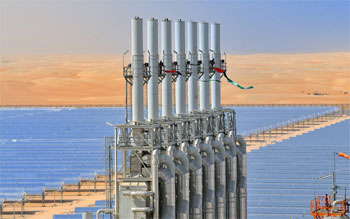 What's the Blog About?
A 500-600 word blog on "Cities and Sustainable Development" is all it takes to enter the contest.
Since the conference focuses on the nexus between water, energy and sustainable development, the question is: How can the world increasingly urbanize and address issues such as energy and water consumption and waste?
It's an opportunity for you to express your views in a compelling way that helps people understand the critical role cities play in driving sustainability.

"With 67% of the world's population expected to reside in cities by 2050, we can anticipate a greater strain to be placed on cities as they become denser and require more water and energy," says Omar Zaafrani, Strategic Communications Manager for Masdar. "Such urbanization will oblige us to adapt and become smarter about the way we manage our resources."
"Through this blogging competition we aim to create a dialogue and debate on the role of cities in achieving sustainable development. The competition also offers a platform for the global community to voice their ideas and innovative solutions to tackling the urbanization challenge," he says.
Last year's contest engaged thousands of readers in a worldwide discussion of sustainability issues in advance of Sustainability Week.
How will the winning blog be chosen? By a panel of judges, the number of votes it receives from Masdar's website, and how much interest it gets through social media.
How to Enter

Entering the contest is simple.
You can post to your own blog and simply link to Masdar's Engage page or email the blog to press@masdar.ae.
Deadline for submission: January 3, 2014.
For more information on the rules and to see others' blog entries, visit Masdar's Engage Page:
(Visited 7,181 times, 5 visits today)