Once again, the Production Tax Credit (PTC) – so crucial to the US wind industry – expires at the end of this year, but this time we're hardly hearing anything about it. It will likely quietly slip away during the night on New Year's Eve.
Although the credit serves the entire industry, wind manufacturers are particularly exposed. Unless equipment orders are in by December 31 and construction has begun, America's 550-plus wind production factories (in 44 states) will be left "blowing in the wind."
Thanks to the wind PTC, the US is one of the largest and fastest growing markets for wind energy. Some 70% of components for US wind farms are Made in the USA. 80,000 Americans are employed in the industry supply chain.
For the past two years, it cost an average of 4 cents per kilowatt hour to buy wind power under a long-term power purchase agreement – making wind energy competitive with fossil fuels.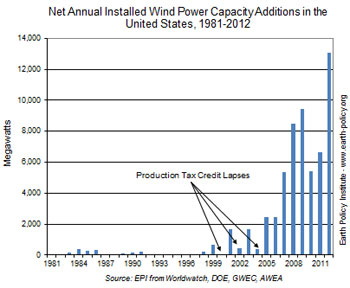 After its strongest year ever in 2012, the wind industry struggled through 2013, as it ramped back up after the last minute (literally) extension of the PTC. Now that it is returning to healthy levels, it's Ground Hog day.
Here we go again. It's an all-too-familiar feeling. The PTC was allowed to expire in 2012, 2008, 2005, and 2003, before Congress passed an extension.
In the background, some are pushing for another extension of the credit, but that's being met by an equal if not stronger pushback from those who don't want to see it renewed.
This summer, Rep. Mike Fitzpatrick (R-PA) introduced a bill to extend the PTC for another six years and then phase it out permanently, "The PTC Certainty and Phase-Out Act of 2013" (H.R.2987).
But in late September, 23 groups including well known names like Koch Brother's-backed Americans for Prosperity, FreedomWorks and Club for Growth sent a letter to Congress pressuring them to let the PTC expire.
They call wind a mature industry that doesn't need "welfare," even as fossil fuel industries continue fighting to keep their century-long tax credits. The fact is that because the US does not have an energy policy, the tax code has been used to spur growth in all kinds of energy, but most estravagantly, oil, coal, gas and nuclear … not wind and other renewables.
In the same fiscal cliff deal that renewed the PTC, fossil fuel industries retained their tax advantages, amounting to $46 billion over the next 10 years. The wind PTC would cost $18 billion if it remained in place during that time.
All of the Usual Suspects
Among the usual suspects agitating against the PTC is the American Energy Alliance (AEA), a conservative advocacy group, and the Institute for Energy Research, its affiliated think tank.
Founded in 2008 by Thomas Pyle – who had previously lobbied on behalf of such key fossil fuel advocates as the National Petrochemical and Refiners Association and the Koch Brothers-backed Americans for Prosperity – AEA released a study and an advertising campaign early this month that claims taxpayers in many U.S. regions are footing the bill for wind generation. Taxpayers, they say, have laid out over $12 billion on the PTC over the past 20 years.
An IER study, "Estimating the State-Level Impact of Federal Wind Energy Subsidies," calculates how much wind developers in each state received from the PTC in 2012. Their conclusion? 30 states paid more than they recouped from in-state wind energy, led by California, New York, Florida, New Jersey and Ohio.
"Studies like this are essential for the American public to understand what happens when government takes their money to fund expensive programs that benefit boutique industries. The present administration has picked wind as its favorite energy source and as a result, every American taxpayer loses," states Pyle, who currently serves as president of both AEA and IER.
Analysis is Flawed
"It doesn't take a Ph.D. in economics to see why this type of analysis is flawed," says Kevin Haley, strategic communications manager for the American Council on Renewable Energy (ACORE).
"By IER's logic," he says, "the long-embedded domestic manufacturing tax deduction for oil and gas, for example, would be unfairly slanted in favor of oil and gas-producing states – with the likes of Maryland, Nevada and Missouri "subsidizing" states like Texas, Louisiana and Oklahoma. The fact is, energy tax credits, the PTC included, are intended to support the energy industries – not the actual states themselves."
In fact, he argues, the PTC confers substantial economic benefits for states. "Take Michigan, one of IER's top 'loser' states. Michigan is about to join the elite 'Gigawatt Club…. The PTC helped build a regional wind industry in Michigan that now comprises over 40 local businesses and 3,000-plus in-state jobs."
As of early 2013, there are 60 gigawatts of wind capacity in the US, enough to supply 6% of electricity.
(Visited 9,510 times, 43 visits today)