As the Philippines reels from the most deadly typhoon ever, its lead negotiator opened the latest round of United Nations Climate Talks (COP) in Warsaw, Poland with tears.
With 10,000 people feared dead and millions evacuated from a typhoon that hit 200 mile-per-hour winds, negotiator Yeb Saño announced that he would commence a voluntary fast, "refraining from eating food during this meeting until a meaningful outcome is in sight."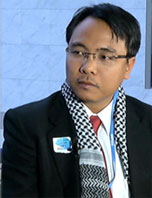 "What my country is going through as a result of this extreme climate event is madness. The climate crisis is madness," says Saño.
There must be real commitments around climate finance, he says. "We call on this COP to pursue work until the most meaningful outcome is in sight – until concrete pledges have been made to ensure mobilization of resources for the Green Climate Fund; until we see real ambition on stabilizing greenhouse gas concentrations. We must put the money where our mouths are. Let Poland, let Warsaw, be remembered as the place where we truly cared to stop this madness. Can humanity rise to this occasion? I still believe we can."
Of course, his speech met with a standing ovation. But this isn't the first time he has made such a stirring speech. At last year's conference in Doha, Qatar, he plead for action after another typhoon just days earlier killed over 1100 people.
That storm was the costliest in Philippine history, but less than a year later – an even bigger one. "With an apparent cruel twist of fate, my country is being tested by this hellstorm called Super Typhoon Haiyan, which has been described by experts as the strongest typhoon that has ever made landfall in the course of recorded human history. It was so strong that if there was a Category 6, it would have fallen squarely in that box."
For the next two-weeks, negotiators from more than 190 countries will try, yet again, to lay the groundwork for an international pact to be reached in 2015.
At past COP meetings, advanced nations agreed to put $100 billion a year by 2020 into a Green Climate Fund that assists developing countries in coping with natural disasters related to climate change, preventing deforestation and mobilizing low carbon infrastructure.
Barely any money has been put in the Fund – between $7.6 billion and 16.3 billion for 2013, reports Oxfam.
Yeb Saño said:
"To anyone who continues to deny the reality that is climate change, I dare you to get off your ivory tower and away from the comfort of you armchair.
"We can take drastic action now to ensure that we prevent a future where super typhoons are a way of life, because we refuse, as a nation, to accept a future where super typhoons like Haiyan become a fact of life. We refuse to accept that running away from storms, evacuating our families, suffering the devastation and misery, having to count our dead, become a way of life. We simply refuse to."
I dare you to go to the islands of the Pacific, the islands of the Caribbean and the islands of the Indian ocean and see the impacts of rising sea levels; to the mountainous regions of the Himalayas and the Andes to see communities confronting glacial floods, to the Arctic where communities grapple with the fast dwindling polar ice caps, to the large deltas of the Mekong, the Ganges, the Amazon and the Nile where lives and livelihoods are drowned, to the hills of Central America that confronts similar monstrous hurricanes, to the vast savannas of Africa where climate change has likewise become a matter of life and death as food and water becomes scarce. Not to forget the massive hurricanes in the Gulf of Mexico and the eastern seaboard of North America."
Incredibly, Poland was criticized as the host for this conference, because the country relies almost completely on coal and has no intention of giving it up. In fact, the government is a sponsor of a side- conference for the World Coal Association. The subject is the role of coal in solving climate change.
You can follow the climate talks here – including live coverage.
Sign this petition which 350.org will hand-deliver to negotiators at the UN climate summit. It will let leaders know their inaction is wrecking the world, and the time is long past for mere talk – we need action, and we need it now:
(Visited 9,394 times, 4 visits today)