Among the many negative impacts of the sequester – the across the board budget cuts imposed by Congress – is the ability for the military to move forward on renewable energy.
Budget cuts are forcing the Army, for example, to cancel $250 million planned for renewable energy projects, says Richard Kidd, deputy assistant secretary for energy and sustainability for the Army.
Last year, the US Army announced that it would purchase $7 billion worth of "reliable, locally generated, renewable and alternative energy" through 2030.
There are 13.4 megawatts of solar on homes at the Army's Fort Bliss base: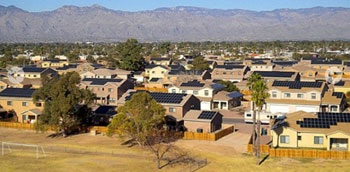 And the Army also doesn't have the funds to stay on top of replacing old coal-fired boilers and plants, reports Federal Times. Without the money to maintain, repair and upgrade equipment and facilities, they become less efficient over time and more expensive to maintain.
"Existing Army facilities are breaking, and they are not being repaired," says Kidd.
"This represents a significant long-term cost liability to the country because once they break, they are going to consume more energy and they are going to be more expensive to fix once we get the funds," he notes.
The military is dealing with $45 billion in cuts for fiscal year 2014.
"As with force structure and readiness, if the reduced caps under current law continue, our modernization forecasts are bleak," General Mark Welsh, Air Force chief of staff, told a House panel, reports Military Times. "This funding level will impact every one of our investment programs."
(Visited 4,317 times, 1 visits today)