In great news for electric cars, Nissan says its electric Leaf is profitable now, and they are ramping up US production.
Cutting the price helped a lot – since the $6000 cut on the sticker price, demand has been growing. And the Leaf is the top reason customers are referred to the Nissan brand, Jose Munoz, Senior Vice President of Americas sales and marketing told reporters at an automotive conference, reports Reuters.
"From a purely attraction and branding point of view it's already a very good car," he says.
When Nissan shifted manufacturing of the Leaf from Japan to the US it was able to cut the price by more than $6,000, bringing the sticker price to $29,650.
Since then, more than 2000 Leafs have sold per month, up from 9800 for all of 2012. There are 34,000 Leafs on US roads today and 75,000 worldwide. It has a 75-mile range, rated at 115 miles per gallon equivalent.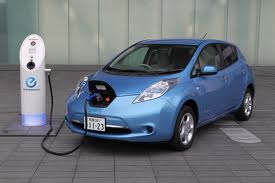 Meanwhile, BMW, which just delivered its first electric car in Germany, says it already has orders for 10,000 cars. Its i8 plug-in hybrid sports car, which debuts in mid-2014, is sold out.
And Volkswagen announced it will electrify all segments of its car lines by equipping manufacturing plants with standardized assembly kits.
"We are able to produce cars on the same assembly line, bumper-to-bumper, with conventional, electrified, and CNG powertrains. This flexible strategy enables us to react fast and cost-efficiently to actual demand and thus reduces risks," says Rudolf Krebs, VW's Commissioner for Electric Drive Systems.
By 2014, VW will have 14 models of hybrids, plug-in hybrids and all-electrics. As demand rises, they will be able to outfit up to 40 models with alternative drivetrains. The company – which plans to manufacture batteries in-house – has hired 400 experts and trained 70,000 employees in e-mobility development, production, and servicing, says Krebs.
"The objective of the program is to continuously improve the environmental compatibility of the production process," explains Peter Bosch, Head of Strategy, Processes and Organizational Structures. By 2018, waste, energy, water consumption, solvents and carbon emissions will be down 25%, while renewable energy will increasingly power factories.
Last year, plug-in and electric cars were the fastest growing segment of the US automotive industry, but carmakers still rely on larger, conventional cars for their profits.
Read our article, Time to Buy an Electric Car?
(Visited 8,086 times, 40 visits today)