Unlike Kauai, which struggled – but failed – to ban GMO crops, the Big Island of Hawaii is doing exactly that.
This week, the Hawaii County Council passed a bill that prohibits biotech companies from operating on the Big Island.
Violators will be fined $1000 a day.
Passed in a 6-3 vote, it exempts the 200-plus papaya farms on the island – most of which are planted with GMO trees. Another version of the bill would also have banned GMO papayas and sent violators to jail instead of being fined.
In the 1990s, scientists modified papaya DNA to withstand a devastating ringspot virus, reports Climate Progress.
Unlike on the smaller islands of Oaho, Kauai and Molokai, where GMO companies and their crops are everywhere – they are not yet on Hawaii's Big Island, and now they never will be.
GMO-Free Hawaii is thrilled: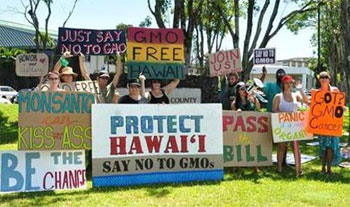 Kauai's law regulates GMO plantings, but stops short of banning them. It's much easier to prohibit these crops before companies invest in widespread plantings.
"We are at a juncture. "Do we move forward in the direction of the agro-chemical monoculture model of agriculture, or do we move toward eco-friendly, diversified farming?" Margaret Wille, the Councilperson who introduced the Big Island bill, told Honolulu Civil Beat.
The bill now goes to the mayor for signature. He has 10 days to veto it.
(Visited 6,916 times, 6 visits today)