Project Frog, which designs modular green buildings, has raised another $20 million in a Series D round, bringing its total to about double that.
This innovative company combines semi-custom designs with a pre-engineered kit of energy-efficient building components for commercial buildings in healthcare, education and retail. Last year, Frog generated close to $30 million in revenue.
For schools, which seem to be the majority of their clients, the key words are: quickly erected and easily reproducible, which means lower costs for construction. It gives budget-crunched schools a way to expand without having to resort to trailers. A building arrives Ikea-style – packed flat.
And they are pretty cool-looking structures.
Lincoln Elementary Child Development Center: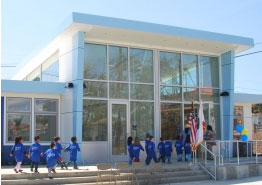 Through advanced performance modeling, Project Frog analyzes how its buildings will perform in each location, allowing owners to optimize a building kit to match their desired performance.
The kits are delivered to project sites ready for assembly, and typically take one to six months to assemble – less than half the time required for traditional construction.
Project Frog says its buildings use at least 25% less energy than the strictest building codes in the US, and as much as 80% less energy in certain parts of the country. And it can cut construction costs by as much as 80%.
"We make the complicated and lengthy process of new construction faster and easier for our customers by providing a kit of high precision, sustainable parts that are optimized based on the structure's size, use and location," says Ann Hand, CEO of Project Frog.
Their buildings incorporate abundant natural light, high indoor air quality, energy efficient heating and cooling systems, and no volatile organic compounds (VOC) interiors. They can include green roofs, renewable energy and can meet various levels of
LEED certification.
General Electric led a previous investment round in 2011. Based in San Francisco, the company ranks #19 on Inc's List of America's Fastest Growing Manufacturing Companies. CEO Ann Hand has been named one of Fortune's 10 Most Powerful Women Entrepreneurs.
(Visited 24,401 times, 2 visits today)