The Department of Interior has given final approval for the first major US transmission project in decades – and one that will carry renewable energy across the western US.
The 990-mile Gateway West Transmission Project will be able to carry about 1.5 gigawatts of energy from southern Wyoming to southern Idaho. Most of the energy will be from the many wind farms in the region.
It will transmit electricity to load centers from Utah to Washington State.
Jointly proposed by Rocky Mountain Power and Idaho Power, they will build it in 10 segments which Interior's Bureau of Land Management designed to make use of existing transmission corridors and avoid sensitive habitat.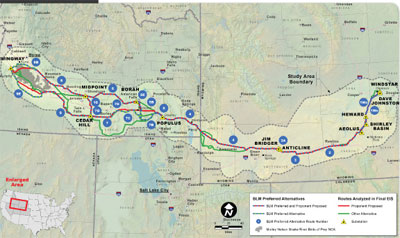 Although about half the route is on federal public land, the final two segments in the westernmost section still have to be worked out. To skirt the 485,000 acre Snake River Birds of Prey National Conservation Area, it has to pass through privately owned land instead.
Concerns about the route have held the project back for seven years; the eight segments that have finally been approved will be completed between 2016-2021.
"The line will strengthen the Western grid, bringing a diversified portfolio of renewable and conventional energy to meet the region's projected growth in electricity demand," says Interior Secretary Sally Jewel.
Impressive as this project is, Gateway West is part of a much larger transmission project. In the end, the $6 billion line would carry 4.5 GW across 2000 miles through Utah, Wyoming and Idaho.
Texas is finishing up a bigger, $6.8 billion transmission project. Nearly 3,600 miles long, the transmission lines will be able to send 18.5 gigawatts of wind across Texas to all major cities in the state.
Read our article, Landowners Get Paid for Wind Turbines, How About Transmission Lines?
(Visited 9,290 times, 6 visits today)