Another massive solar project is now online, California Valley Solar Ranch in San Luis Obispo County.
The 250 megawatt solar PV plant is owned by utility NRG and built by SunPower. It will bring clean energy to 100,000 homes by selling the electricity to Pacific Gas & Electric under long-term power purchase agreements.
"In addition to its nine solar photovoltaic arrays, it includes a water recycling plant that minimizes annual water use and a plan for protecting and conserving more than 12,000 acres of land in and around the facility," says Randy Hickok, senior vice president of NRG Solar.
Almost 750,000 solar arrays cover only 30% of the 4700-acre site. The plan preserves wildlife migration pathways and an abandoned gypsum mine on the site was cleaned and restored.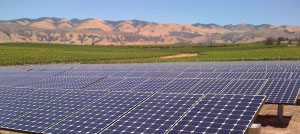 The Department of Energy supported financing of the project with a $1.2 billion loan guarantee. Construction of the project created 700 jobs over two years and generated an estimated $315 million of economic development for the local economy.
SunPower sold the project to NRG in 2011, and designed and built the project using its solar panels. NRG and SunPower will jointly operate and maintain Valley Ranch for two years, after which NRG will assume sole responsibility.
If you own stock in NRG Yield (NYLD), the renewable energy arm of NRG that recently went public, you own shares in this project!
Other solar projects where NRG has a stake include 49.95% of the 377 MW Ivanpah plant, which recently came online, and 51% of the Agua Caliente project, which is close to completion.
Another huge plant that's now online is the Solana Solar Concentrating Plant in Arizona, the first to store energy.

(Visited 7,231 times, 7 visits today)