Thanks to supportive policies, notably the wind production tax credit (PTC), the US wind industry continues to be one of the largest and fastest growing markets for wind energy.
Here's an update on the industry from three reports issued by the Department of Energy.
Last year, over 13 gigawatts (GW) of wind capacity came online – nearly double that of 2011 – and 72% of components for wind projects are now Made in the USA, nearly triple that of 2007, according to the 2012 Wind Technologies Market Report by Lawrence Berkeley National Lab.
80,000 Americans are employed in the industry supply chain.
As of 2012, wind can supply 6% of US electricity, with 60 GW powering over 15 million homes, and for the first time, wind was the top source of new energy capacity. 43% of all new electrical capacity in the US came from wind, representing $25 billion in investment.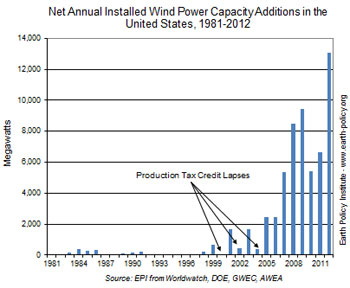 Nine states get more than 12% of their electricity from wind, says the report, and Iowa, South Dakota and Kansas get over 20%.
Wind technology is also making great gains. Since 1998, the average capacity of US wind turbines is up 170%, according to another report from the Department of Energy, 2012 Wind Technologies Market Report. At the same time, capital and maintenance costs for projects continue to decline, resulting in near-record low prices for wind energy.
For the past two years, it cost an average of 4 cents per kilowatt hour to buy wind power under a long-term power purchase agreement – making wind energy competitive with fossil fuels.
Ever larger wind turbines with longer, lighter blades have greatly improved turbine performance and made it possible for wind projects in less windy areas.
Growth in Distributed Wind
As opposed to centralized, large wind farms, distributed wind installations directly supply power to the local grid. They power schools, homes, farms, businesses and communities, and help improve grid reliability and efficiency.
These installations have grown five-fold in the past 10 years, to 69,000 turbines across all 50 states. 812 megawatts (MW) of energy comes from turbines as small as a few hundred watts to multi-megawatts, according to the 2012 Market Report on Wind Technologies in Distributed Applications by Pacific Northwest National Lab.
Most are small turbines no greater than 100 kilowatts, 90% of which are made by US wind suppliers.
Of course, the reports underline the fact that continued policy support is essential for the industry. 2013 is a slow year because of last year's near-abandonment of the PTC and now the industry faces uncertainly again, not knowing if Congress will renew it. So, although 2014 will be better than this year, it's not possible to project beyond that.
Legislation has been introduced to renew the PTC again, but there's a strong coalition that opposes it.
(Visited 7,600 times, 16 visits today)