Proterra Inc., which makes electric buses, has closed $24 million in a Series C round from big name venture capital firms such as Kleiner Perkins and GM Ventures.
That's on top of $23 million the company raised a year ago and $30 million in 2011.
Utilities Edison Energy (a subsidiary of Edison International) and Constellation joined as new investors, an important development for Proterra. The company is actively working with utilities to optimize electric buses to leverage power distribution on the grid.
"One of Edison Energy's core strategies is investing in the electrification of transportation," says Bert Valdman, president of Edison Energy.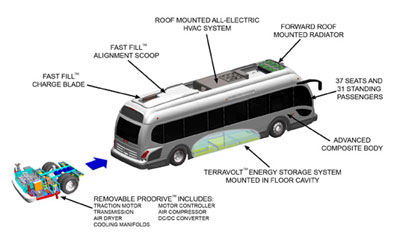 "The benefits of electric mass transit are compelling to a wide range of audiences," notes Garrett Mikita, CEO of Proterra. "It offers significant cost savings to transit agencies; drastically reduces fuel consumption, air and noise pollution; and improves the quality of life of the communities it serves.
Founded in 2004, Proterra is based in Colorado and manufactures in South Carolina. Its EcoRide bus has a 40 mile range and can be charged in less than 10 minutes thanks to light-weight composite body. The electric drive motor is supplied by UQM (NYSE: UQM) and more than 70% of parts are made in the US. Proterra says the bus offers greater than $300,000 savings in total lifetime operating expenses.
Last year, Smith Electric Vehicles unveiled the first electric school bus.
(Visited 4,241 times, 21 visits today)