When many people think of New York City, beyond the crowds their image of the city is the lights.
Soon, the lit-up skyline will be much whiter because all 250,000 street lights are being switched to LEDs in the biggest retrofit project in the nation.
The switch-over is part of PlaNYC, the city's climate change mitigation plan. PlaNYC requires the city to cut emissions from government operations 30% by 2017.
Started in 2009 as a pilot, the retrofit is now rolling out across NYC with a completion date of 2017. LEDs already light key corridors, such as FDR Drive – the highway along its east side – and paths that wind through Central Park. They even adorn the city's bridges.
The $76.5 million project is expected to save $6 million a year in energy costs and $8 million a year on maintenance costs (LEDs last for up to 20 years).
The Empire State Building's lights are also LEDs: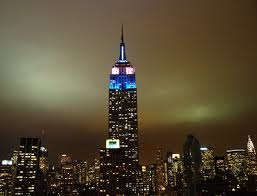 It is the first project to receive funding from the city's ACE Program (Accelerated Conservation and Efficiency Initiative). The $100 million competitive program launched this fall to expedite government projects that cut greenhouse gas emissions. It funds programs that can be quickly implemented on efficiency and clean heating. It awarded $10 million toward the lighting retrofit.
"Using LEDs for street lighting is more than just a bright idea, it's a necessity for sustainable cities to operate more efficiently while also delivering clearer, better quality light for New Yorkers," says Transportation Commissioner Sadik-Khan.
NYC was the first large American city to use LED traffic signals, converting lights at all 12,700 intersections – they now use 81% less energy. Even the iconic ball that drops at New Year's is filled with LEDs.
Boston and Los Angeles both recently finished their own city-wide lighting retrofits.
It's estimated that the 35 million streetlights in the US consume about 1% of all electricity. If every city followed their lead, that would eliminate the need for 2.5 coal plants a year, notes former President Clinton.
Although clear, bright LEDs make city streets safer, not everyone likes their look. They are too bright they say, reminding them of floodlights. While there are soft light versions for use in homes, we wonder why they can't be applied to street lights.
Last year, the Department of Energy conducted a lifecycle analysis of LEDs and found while they have significantly lower environmental impact than incandescents, they only have a slight edge over compact fluorescents.
(Visited 5,904 times, 8 visits today)