Indonesia, one of the top countries for illegal logging, has signed a historic agreement that ensures the EU will receive only certified legal timber and products made from wood.
It's got a long name but the "Collaboration Agreement on the Voluntary Partnership Agreement on Forest Law Enforcement Governance and Trade" (FLEGT-VPA) is the first such agreement in Asia.
The agreement is the "pinnacle of a 6-year intensive and constructive negotiation that involved private, public and government sectors," says the EU.
Only licensed, verified timber can be exported from Indonesia to the EU's 28 member countries. Indonesia will do the licensing so the burden is not on European timber companies, and both countries will approve the licensing program.
"This Agreement represents that both parties show no mercy to illegal logging. In addition, this becomes a milestone for the world to promote the timber trade with legal certification assurance," says Zulkifli Hasan, Indonesia's Minister of Forestry.
Licensing will take place across the supply chain, from harvest to transport, and also includes workers' rights criteria. Accredited third parties will audit the process.
Since 2010, 20 million acres of forests and more than 700 industry sectors have received certification, the government says.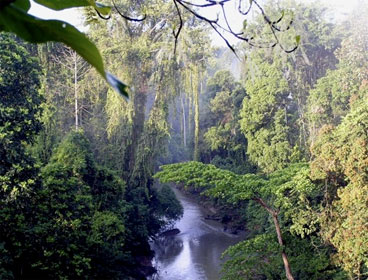 Indonesia hosts the third largest expanse of tropical forest, home to iconic species like the Sumatran tiger, of which only 400 animals remain, and highly endangered orangutans.
Indonesia's two-year moratorium on deforestation expired in May – we haven't heard if it will be renewed. The palm oil and pulp and paper industries are the leading cause of deforestation, which accounts for almost 85% of the country's carbon emissions – the third highest in the world. 2.5 million acres a year are clear cut, releasing more carbon than all the cars, trucks, planes and ships in the US combined.
A slew of companies have cancelled contracts for both palm oil and paper products in an attempt to get Indonesia to gain control over deforestation. Companies include Kroger, Starbucks, Unilever, McDonald's, SC Johnson, Avon, Kellogg, Nestle, Procter & Gamble, General Mills, Walmart and Co-Operative Group for palm oil and Disney, Mattel, Hasbro, Lego, Adidas, Gucci, Tiffany, Levi Strauss, Kraft, Nestlé, Carrefour, Staples, Office Depot, Unilever and Kroger for paper goods.
(Visited 15,790 times, 11 visits today)